Ending a Taking Economy and Creating a Giving Economy (Part 1)
I am proud to have published essays by Zeus Y. since 2008. Part 2 will be published tomorrow.
Ending a Taking Economy and Creating a Giving Economy: Confronting the Zero Interest Rate Policy (ZIRP) and Taking Effective Action by Zeus Yiamouyiannis (guest essay)
Introduction
The world can no longer afford a taking economy, where "make a killing" is the motto. Together we need to create a giving and sharing economy that helps us all "make a living." This essay will unveil the present unjust and unworkable economic system that punishes responsibility and rewards fraud. It then outlines the implications for the average person, and ends with new, powerful, and practical principles and visions driven by the emergence of connected communities. This 2-part essay brings together many of the ideas I will be discussing in a new series on Transforming Economy on Gaia TV.
First, we need to become factually aware of "where we are now." This allows us to take active responsibility as aware citizens without simply blaming ourselves for our personal and collective situation. In doing this we have to be courageous enough to learn about the unfair realities that surround us without capitulating to helplessness.
Knowledge is power, and the next three sections will bring you into the dynamics of the present economy so that you can be empowered to avoid self-blame for problems that are not created by you, and so that you can wisely avoid contributing to the mess. In Part 2 we will talk about proactive alternatives.
Why is it that 61% of "regular people" in the U.S. think they have not recovered from the Great Recession while the talking heads on 24-hour news shows seem to think everything is fine? The answer is simple: We now have a global two-tiered financial, ethical, and regulatory system. The rich and politically connected do not get prosecuted for outrageous fraud, while little guys get penalized for a tax return error.
Billionaires can pay zero taxes, and you pay 25-30% of your modest salary. Rather than being marched into jail, corporate executives who preside over corrupt practices walk away with hundreds of millions of dollars in compensation. There is no active accountability in the system as it stands presently.
Economic fundamentals have ceased to apply. Consequences for disastrous or corrupt upper- level financial decisions roll downward and profits are drawn upward. Wealth is concentrating into fewer and fewer hands. Private companies hog revenue and dump financial liabilities on public taxpayers. When big banks screw up in a way that should bankrupt them, taxpayers bail them out, and then these same corrupt companies reward themselves with near record bonuses. Gold and silver prices are manipulated downward to keep the U.S. dollar and stock markets inflated.
Even house prices, food, and other commodities cannot escape this mess. One middle class salary could buy a house and a car in the early 1970's. Now couples with two middle class salaries cannot afford a house. An uproarious and sobering interview on the Daily Show exposed the Mortgage Bankers Associations "strategic default" on their own 79 million dollar mortgage for a headquarters building in Washington, D.C.
They could pay the mortgage but wanted to save money and rent a cheaper building five blocks away. This did not prevent the CEO of the Association from insisting that it was a moral responsibility for the little people who can pay their mortgages to stick with the initial agreement.
How did things get this bad? There are many factors, but one fateful feature stands at the center, the Zero Interest Rate Policy (or ZIRP), a decision at the highest levels of governments and central banks, particularly the U.S., to give trillions of dollars of (interest-)free money to private banks and offload the burdens and consequences of that decision to public citizens.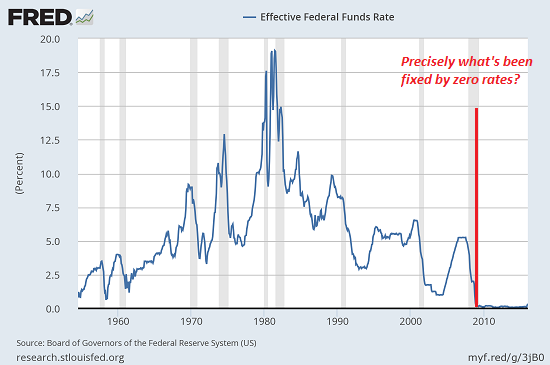 When money is free, especially to the worst abusers, decadence for the well-connected (and suffering for the "regular person") are sure to follow. That is where we stand now, but this iniquity does not have to be the last word. We must empower ourselves by treating this uncomfortable truth as a doorway to inspiration, genuine choice, and effective change.