"Credit Squeeze" Planned in China to Deflate Housing Bubble?
The governor of the People's Bank of China chimes in.
All kinds of officials are fretting about the dangers of the housing bubble in China that has been fueled by easy credit that officials have made available last year to stop the implosion of the prior housing bubble.
City by city, they're grappling with this problem, trying to put a lid on it. Caixin Online reports:
About 20 Chinese cities tightened home purchasing requirements in late September to cool an overheated market, with some prohibiting property developers from selling homes to residents who don't have a local hukou, or residency registration, and to those who already own more than one home. Other cities have raised the minimum down payment required.
But easy credit still rules: Total new loans in August reached 948 billion yuan ($142 billion). Over 71% of this debt was taken out by households, mostly mortgages.
New mortgages skyrocketed from 2.2 trillion yuan in 2014, to 3 trillion in 2015, and already hit 3.6 trillion in 2016 through August, according to the Wall Street Journal. Medium and long-term household loans, mostly mortgages, are now up 27% from a year ago.
In response, the average new home price in 70 Chinese cities rose 9.2% in August year-over-year, according to the National Bureau of Statistics. In Beijing, the average price soared 23.5%, in Shanghai 31.2%! This chart by tradingeconomics.com shows the year-over-year percentage changes of the government induced boom-and-bust cycles: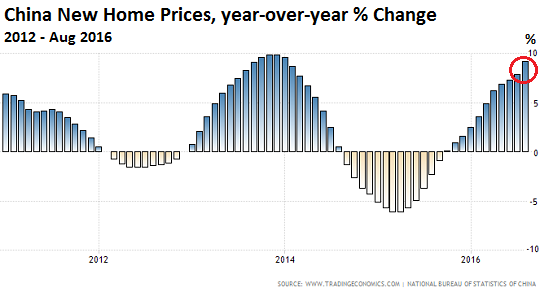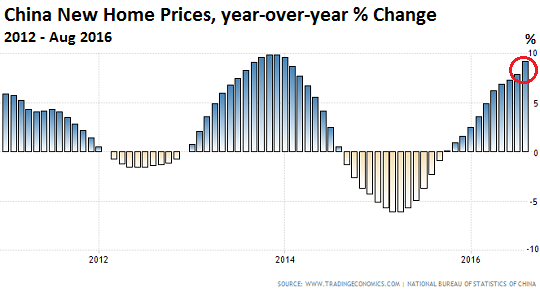 Soaring leverage makes this housing bubble much more dangerous than the prior ones, not only to the banking system and financial stability but also to social stability. Folks there don't like it when their life savings suddenly go down the floor drain, and they might react in ways that the government doesn't appreciate.