Texans Are Cutting Back, Wheels Come off Houston Economy
Five-year retail boom implodes.
Retail sales in Texas boomed for five years straight, from March 2010, their low point during the Great Recession. Sales tax collections jumped 46% from the first half of 2010 through the first half of 2015 – dizzying growth for a mature market! Given the size of the Texas economy, it helped prop up US retail sales. But by May 2015, 10 months into the oil bust, things began to sag.
Sales tax collections in September for sales that occurred in August dropped 3.5% year-over-year, according to the Texas Comptroller of Public Accounts. And in August, sales tax collections had dropped 3.0% from two years earlier. This was only the second time since the depth of the Financial Crisis that collections were lower than two years earlier, the first time having been in June!
Year-to-date, sales tax collections fell 2.5% to $21.4 billion, and were practically flat with collections two years ago. On a per-capita basis, given the growth of the Texas population (up 8% since 2010), it looks even worse.
Sales tax collections aren't an ideal gauge. Many food products are exempt. Taxes on motor vehicle sales and rentals are not included in this tally but are reported separately. The data is not seasonally adjusted, so it can only be compared to the same months in prior years. But it's an unvarnished approximation of the movements of retail sales.
This chart by "David in Texas," who also researched the sales tax collection data, shows how the boom since the Great Recession began to sag last year. I circled the two months when collections declined from two years ago. Note that sales tax collections lag sales by one month. So collections reported in September were for sales in August (click chart to enlarge):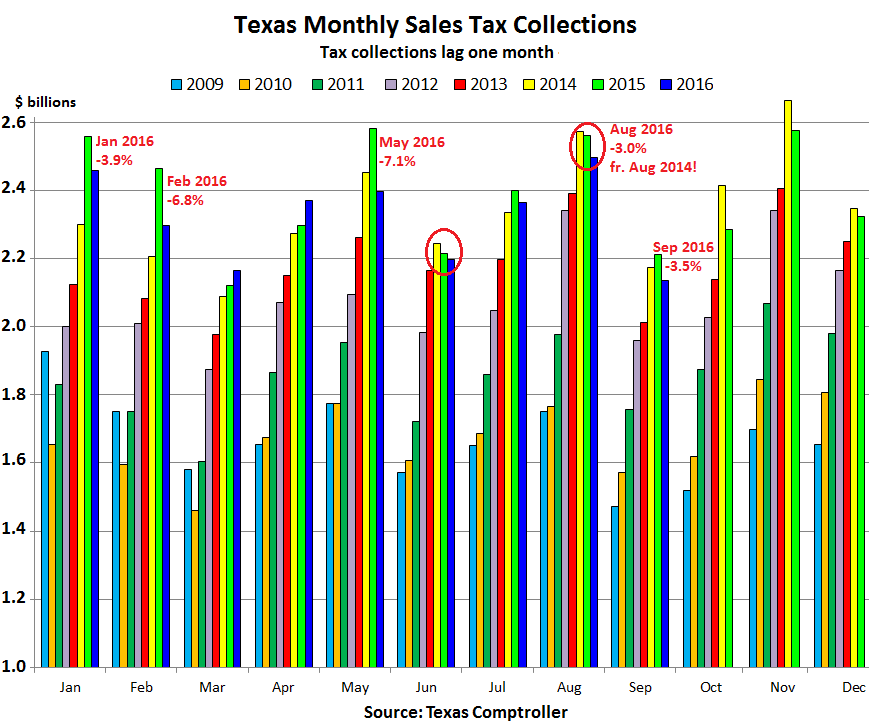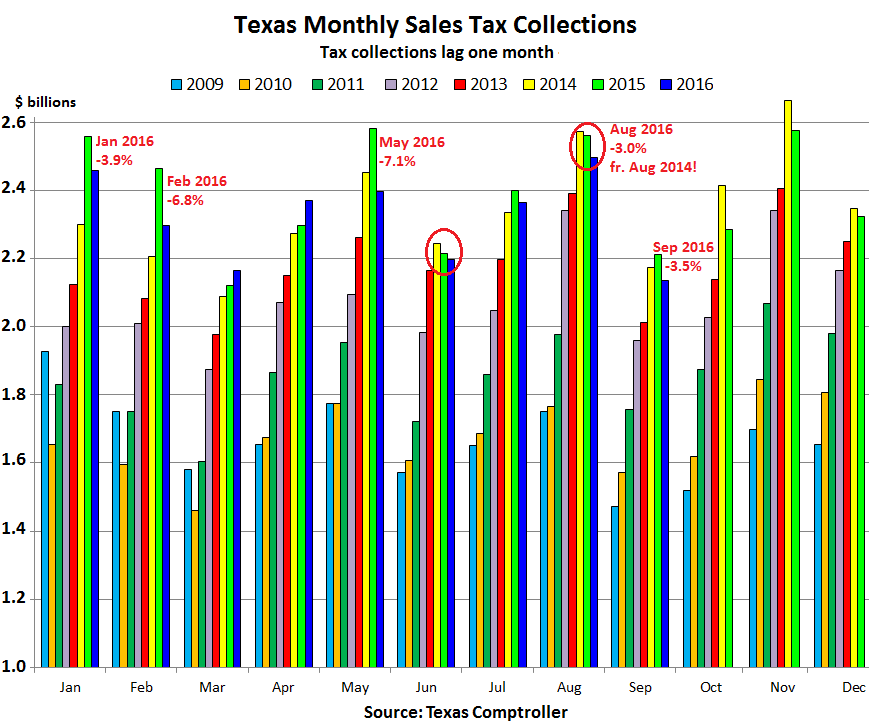 But people in Dallas, Austin, and some other places are looking at this incredulously. The economy is hopping. So retail sales may not be all that strong either, but the exuberance for the booming housing market hasn't cooled off. Home prices are still soaring. Job markets in those cities are still growing with only a few dark clouds in sight.
But then there's the Houston metro, with a population of about 6.6 million, just slightly less huge than the Dallas metro. And there, the wheels are coming off the economy (below data via Houston.org, and the Bureau of Labor Statistics).
-->