David Smith: This Correction Is Painful, but Exactly What Bulls Needed to Happen (Podcast)
Precious metals markets have been slammed hard in recent days. Hawkish comments from Federal Reserve officials drove a breakdown of support levels in gold and silver, and that breakdown trigged a wave of heavy technical selling. Gold suffered its biggest down day in nearly three years, while silver dropped 10% on the week through Thursday's close.
Some gold bugs are asking whether the Federal Reserve has an agenda to drive down precious metals prices and keep the stock and bond markets elevated. It's not an unreasonable concern given Fed chair Janet Yellen's recent comments indicating that the central bank is considering buying assets in the stock market and other markets. CNBC's Rick Santelli weighed in with a rant on central banker overreach:
Rick Santelli: What if the central banks all get together and decide, "Well okay, we don't want that to happen, let's buy Deutsche Bank, or when any other bank or a company is in trouble. We'll buy that," or as you get the political highlight points, like at election times. You want to keep everything pretty clean. Make sure nothing goes down. Is that the world we really want to live in?
As of this Friday recording, gold prices come in at $1,256 an ounce, posting a 4.7% decline this week. Silver is down twice as much or 9.4% since last Friday's close to trade at $17.44 an ounce. The platinum group metals also got besieged with selling pressure. Pla tinum is off 6% this week while palladium is down 5.9%
The bad news for metals bulls is that prices are down and the near-term momentum is negative. The good news is that sharp, severe corrections like these are often quite short in duration. They typically represent good buying opportunities. The name of the game is to buy when value opportunities present themselves and not worry about trying to pick a bottom. You won't buy in at the exact bottom of any pullback in markets as volatile as these unless you're incredibly lucky.
Audio MP3 Download/Listen Here>>>
Well, luck isn't on the side of those whose homes are right in the path of a massive storm. As a devastating Category 4 hurricane rips along the Florida coastline and moves up the Atlantic coast, millions of people have faced the prospect of severe property damage and protracted power outages. In recent days, gasoline shortages spread throughout the southeast and grocery store shelves were stripped bare of bottled water, batteries, and other emergency supplies.
In any kind of disaster situation, those who fail to prepare – or wait too long to prepare – will be the most vulnerable. You can never know when a freak weather event or natural disaster or man-made disaster or financial meltdown might adversely affect you and your family.
Regardless of where you live, make sure you have emergency backup supplies of bottled water and long-lasting food on hand. Backup power sources, including solar and gas powered generators are also worth considering.
Make sure you are ALSO prepared for a financial emergency. The banking system is fragile and vulnerable to any number of threats, including derivates blow ups and cyber attacks. If banks close and ATMs become inaccessible, you'll be glad you kept an emergency cash stash.
But don't put your full faith in the value of the dollar. It is sure to lose value over time and could one day suffer a massive loss of confidence all at once. If top Treasury and Federal Reserve officials get their way, cash in the form of coins and bills will no longer even circulate in a future cashless economy.
The ultimate money in the event of a war on cash or in any type of crisis situation remains physical precious metals. If you need to use gold and silver for barter and trade, you'll want to have a variety of sizes for maximum flexibility. One ounce gold coins are great for storing large amounts of wealth, but they are not necessarily ideal for buying produce at a local farmer's market. Having gold in quarter ounce, tenth ounce, and even 1 gram denominations gives you more options.
Of course, silver is the more practical metal for smaller transactions. One-ounce silver coins and roundswill be widely useful. For smaller transactions and to make change, you'll also want to have some fractional sized silver.
Pre-1965 90% silver quarters and dimes are essential for any barter stash. During an economic panic or retail silver shortage, premiums on pre-1965 silver coins could surge. It's best to stock up on these historic, no longer minted coins while premiums are still low, as they are now.
And finally, don't worry about being ridiculed for diversifying out of the financial system. The ones doing the ridiculing are the same ones who didn't see the financial panic of 2008 coming. And today, of course, they don't see any trouble ahead for conventional investments.
CNBC Anchor: I'd rather have cash because both assets are of value.

Steve Liesman: Some people have thought that for the last eight or nine years. And they've missed a very powerful move, both in the bond market and in the stock market. I wish them well. And some of them are also sitting on great big piles of gold, or perhaps cans of tuna down in their bunker.
No, you don't need to build a literal bunker or go overboard with stockpiling enough food and supplies to last you for decades. But it is prudent to have at least one month's worth of survival essentials readily accessible in your home. Better to end up never needing it than to one day need it and not have it.
Well now, without further delay, let's get right to this week's exclusive interview.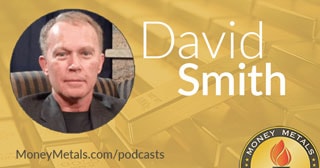 Mike Gleason: It is my privilege now to be joined by David Smith, senior analyst at The Morgan Report and regular contributor to MoneyMetals.com. David, it's good to talk to you again and welcome back.
David Smith: It's always good to be back, Mike and we're in momentous and interesting times right now with the metals and the miners.
Mike Gleason: Yes we are. Well as we're talking here on Thursday morning David, the metals have a faced a tough week so far. Silver fell nearly a dollar on Tuesday alone and gold sold off more than $40 that day which are some big, big moves for both metals. They're continuing to drop a little bit here Wednesday and Thursday. Now when we had you on back in July, you were calling for a pull-back and after not seeing much deviation from the range trades that persisted in the two-plus months since that conversation, we finally saw the range broken to the downside here this week. So we are finally getting that correction just like you had predicted.
Before we get into what a great opportunity that this is presenting to metals investors, give us your thoughts on what's driving the correction here. Is it just technical selling that's driving this now that we've take out support levels and then do you think it's going to be short-lived or do you see more downside to come?
Audio MP3 Download/Listen Here>>>