The "Nuclear Options:" Oil Pinned Below $30/barrel, US Dollar Rising
These two nuclear options could strike the global economy even without any planning.
The "nuclear option" is the extreme-measures button you push when conventional approaches have failed and you're facing certain defeat. In terms of upsetting the global economy's precarious balance, there are two nuclear optionsshort of actual nuclear war: pinning oil to $30/barrel or even lower for an extended period, and triggering a sustained rise in the US dollar. (USD)
Let's glance at weekly charts of oil (WTIC) and the USD: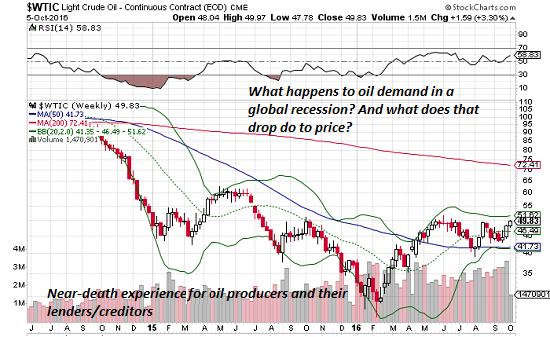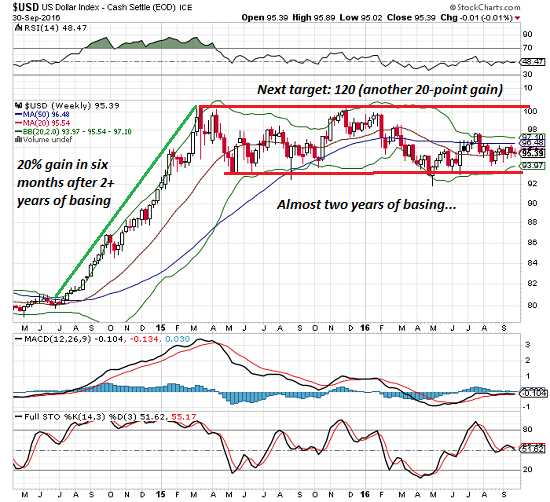 Oil producers and their lenders/creditors had a near-death experience when oil plunged to $27/barrel early in 2016. At $30 or less per barrel, revenues from oil sales are no longer sufficient to support enormous domestic welfare state spending and debt service.
It's pretty simple: pin oil at $30/barrel for a year and you destabilize every nation that's dependent on oil sales for its revenues. Oil producers in more economically diversified nations such as Canada and the US go bankrupt or drastically curtail exploration and development to survive.
A bunch of stuff is no longer affordable to oil-revenue-dependent nations once oil is pinned to $30/barrel for months on end: massive social welfare programs, servicing sovereign debt, waging war, either directly or via proxies, and propping up cratering currencies.