Owners at "Leaning Tower of San Francisco" Knock Condo Values to Zero
"Values could climb in subsequent years if the building is repairable."
So what's a condo worth in the 58-story Millennium Tower at 301 Mission St., the most luxurious condo tower in San Francisco, which has sunk 16 inches since its completion in 2008 and began leaning in 2009?
The tilt has reached 2 inches. Majestic finger-pointing has ensued. Lawyers have been unleashed. Investigations, studies, and counter-studies have commenced. No one is certain how to repair it, or if it is repairable at all.
A few things are certain: Large amounts of moolah will change hands, lawyers will get rich, and if taxpayers don't watch out, the moolah may well change from their hands to other people's hands – because the city of San Francisco has been dragged up to its eyeballs into this.
Lenders too are on the hook. California is one of the dozen or so "non-recourse" states. Standard purchase mortgages are non-recourse: they're secured only by the property. When push comes to shove, borrowers might be tempted to let the bank worry about their properties in the leaning tower of San Francisco.
Below is an image of the Millennium Tower via Google Earth. Note the construction site to the right and in front of it. That's the future Transbay Terminal, the construction of which is being amply and conveniently blamed for the sinking and leaning, though the sinking and leaning seems to have started before ground was even broken: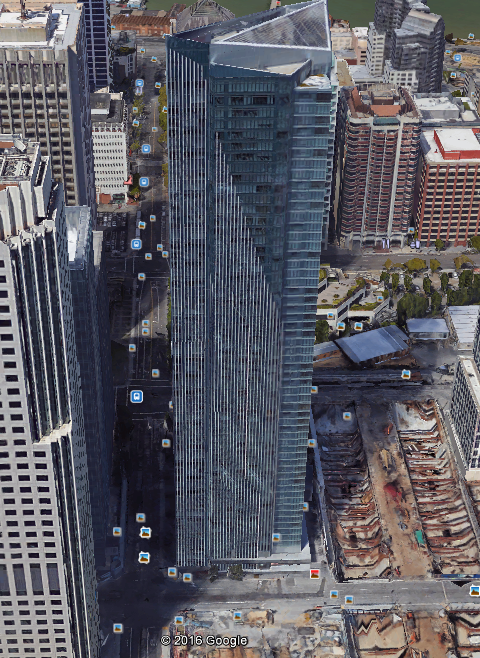 Now aggrieved condo owners found a way of biting back: 163 – "including tech executives, sports figures, and real estate investors" – have filed property assessment appeals by the September 15 deadline to get the assessed values of their units knocked down, according to the San Francisco Examiner, which obtained the records through the Freedom of Information Act. As part of their appeals, owners must include an estimate of what their unit is currently worth.