Subprime Auto-Loan Backed Securities Turn Toxic
What will sink the US auto boom?
In the subprime auto loan market, things are turning ugly as delinquencies and losses have begun soaring. Specialized lenders – a couple of big ones, and a whole slew of small ones that service the lower end of the subprime market – slice and dice these loans, repackage them into auto-loan backed securities (auto ABS), and sell them to investors, such as yield-hungry pension funds.
Delinquencies of 60 days and higher among subprime auto ABS increased by 22% year-over-year in August, Fitch Ratings reported on Friday – now amounting to 4.9% of the outstanding balances that Fitch tracks and rates. And subprime annualized losses increased by 27% year-over-year, reaching 8.9% of the outstanding balances of auto ABS.
Even delinquencies among prime borrowers are rising, with delinquencies of 60 days or more increasing by 17% from a year ago, and annualized losses by 11%, though they're still relatively tame at 0.4% and 0.6% respectively of the balances outstanding.
And according to Fitch, the toxicity level in the subprime auto ABS space isgoing to rise, with "subprime auto losses to pierce 10% by year-end."
Total auto loan balances, both subprime and prime – given the soaring prices of cars, the stretched terms of the loans, and the ballooning loan-to-value ratios – have been skyrocketing, up 46% from the first quarter in 2011 through the second quarter in 2016, when they hit $1.07 trillion: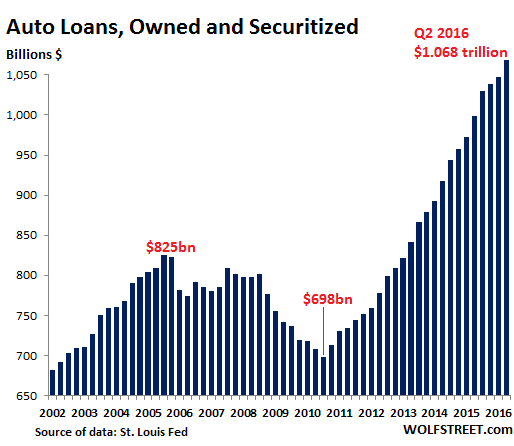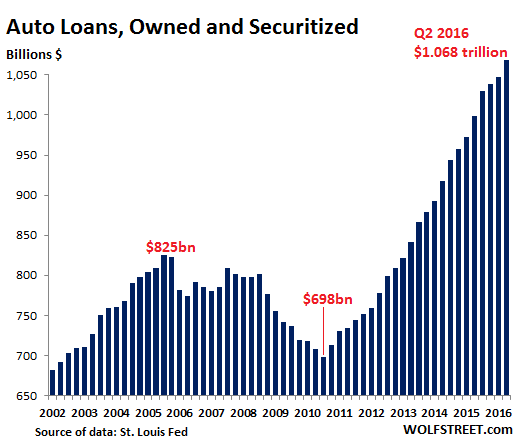 Fitch blamed the higher losses on several factors:
The "weak 2013-2015 vintage pools" – hence the more recent loans, when underwriting standards in the zero-interest-rate environment got increasingly loosey-goosey
Seasonality
And wobbly wholesale values of used vehicles.
High wholesale values of used vehicles are a gift from the government to the entire industry. The federal $3 billion cash-for-clunkers program that kicked off in July 2009 wiped out the cheaper end of the used vehicle market, to the detriment of lower-income people. Vehicles they could afford were largely removed from the market. But to heck with these folks. They had to figure out how to scrape more money together or go deeper into debt to be able to buy higher priced vehicles.