Massive Staging Of UN Vehicles In Maryland
'Quit Denying The Obvious And Get Real – Looks Like It's All About To Go Down'
The story from Danny Quest over at We Are Change back on July 13th of 2016 told us that a recent Obama Executive Order allowed the United Nations to use force upon US citizens. Quest used this Military Times story as the source for his story as he proceeded to tell us: The militarization of local police, combined with the arrival of a United Nations military presence, could mean big trouble for liberty and freedom here in America.
Back in June of 2016 after a massive sighting of United Nations vehicles in Virginia went viral not only in the alternative news but mainstream news as well after the Daily Mail picked up the story, the website Snopes put out a story attempting to debunk that sighting,telling us that the UN vehicles that were seen were only MADE in the US but were being transported to be used out of country.
We'd LOVE to know what Snopes will say about the latest massive UN vehicle sighting recently in Maryland as detailed in the first video below and the photographs within this story. Featuring not only armored vehicles but tanker trucks, massive storage containers as well as a huge amount of different equipment including large numbers of black and grey 'Suburban' trucks, we see a Kellog's plant in Westernport, Maryland absolutely filled to the brim with these UN machines of war on US soil that may be staging for an illegal globalist war upon the American people. We also take a look below at a new SQAlert from a Federal Law Enforcement officer who tells us what he feels is now happening in America.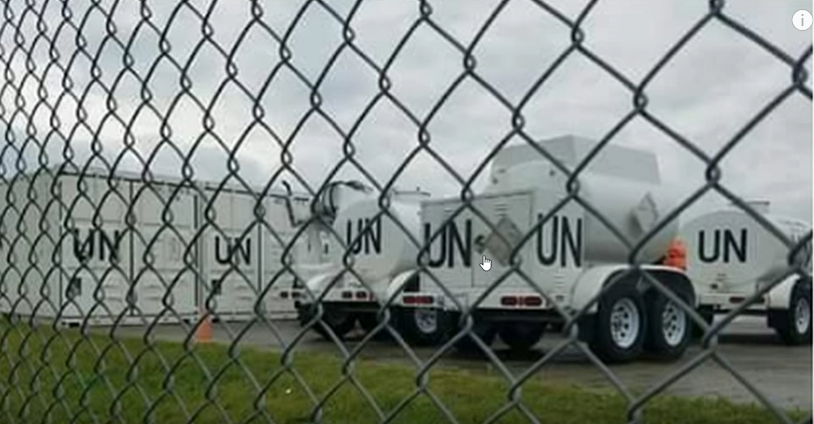 ANP reached out to Alpine Armoring, the source for Snopes 'debunking story', and were told that the information that Snopes published in their story was not accurate at all and not what they had told Snopes – the reporter at Snopes had created a 'conspiracy theory'. ANP also reached out to the Kellogg company and were told that the UN vehicles that have been just SITTING since AT LEAST last winter are owned by another company that is leasing the other half of that building. We were told that they did not know the name of that company.
If these vehicles were being built in Pennsylvania and then transported south to be shipped overseas, why are the tons and tons of UN vehicles that you'll see in this video here in the first place, being staged in Maryland, certainly not being transported overseas, and here for AT LEAST 8 months now?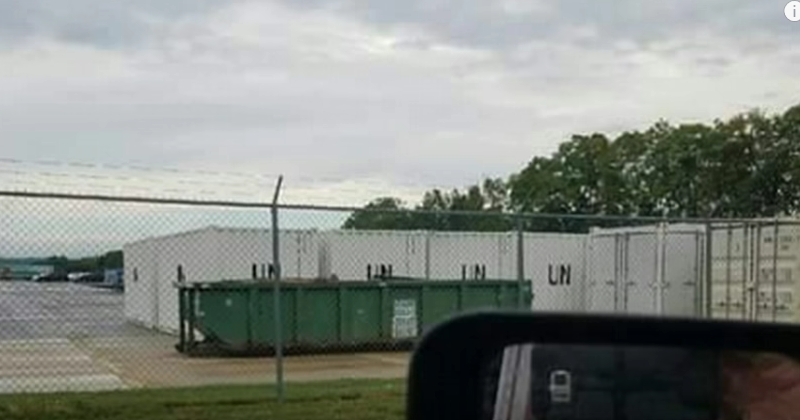 Will these monsters soon be used by Obama's goon squads to take guns away from law-abiding American citizens as the United States collapses and the UN begins to implement their crackdown upon American citizens? We must remind you that while UN troops are allegedly called 'peacekeeping', their is a long and very well-documented history of UN troops commmitting unspeakable crimes against humanity. From HeatStreet:
UN Peacekeepers have been raping children in the Central African Republic. 
MINUSCA, the mission resulting in nearly a hundred allegations of child sexual abuse, gave soldiers the mandate "to protect civilians and support transition processes" following the devastation of war. 
Instead, numerous Blue Helmets have used their position as an opportunity to engage in acts of rape and paedophilia. This abuse of power is no secret: it first emerged over a year ago. In fact, it is so widespread that the United Nations was subject to an independent report "on the Sexual Exploitation and Abuse by International Peace Keeping Forces." 
In exchange for the assistance they were deployed in order to provide, in exchange for basic necessities such as food and water, UN soldiers have been sexually exploiting children. The Blue Helmets attacked the very people they were sent to protect. Children as young as 7 have been targeted, with a girl forced to perform "oral sex on French soldiers in exchange for a bottle of water and a sachet of cookies."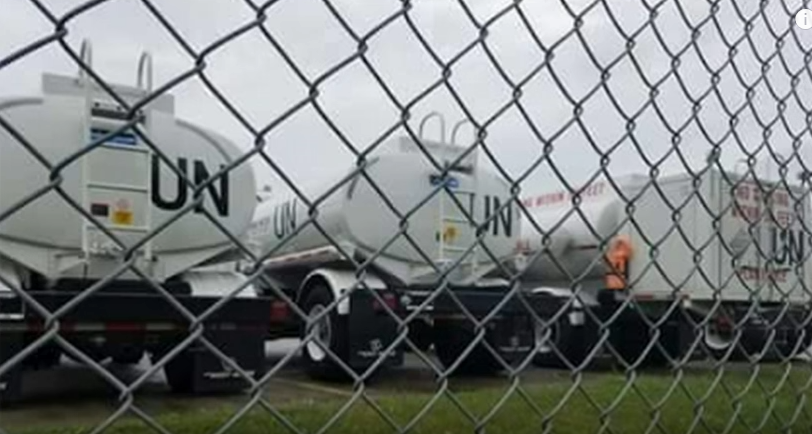 This story from Joseph Farrah was written all the way back in 2000 and in it we see that UN 'peacekeeping soldiers' have long been nothing but trouble wherever they are sent. Does America really want them here, waging war upon law-abiding US citizens?
Reading through the unedited comments on the video as seen in the screenshots below tells us exactly what other people are thinking about this latest United Nations vehicles sighting on US soil that Snopes WON'T be able to debunk like they attempted to back in June.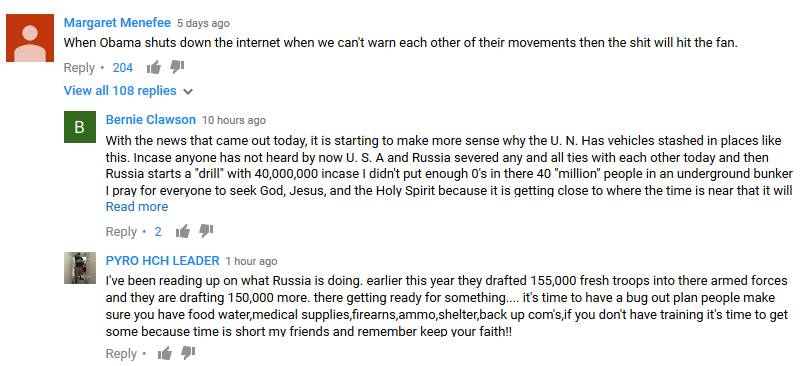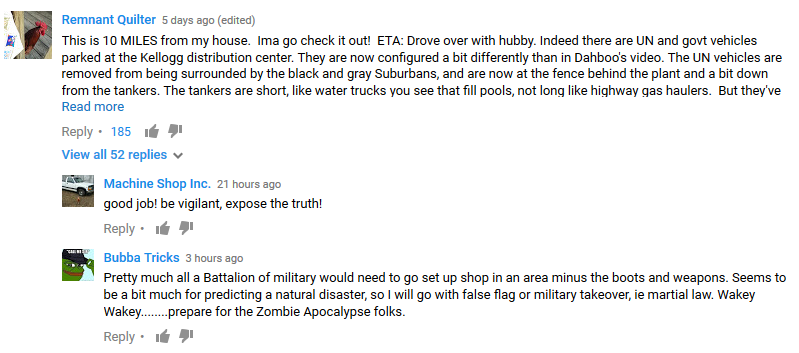 The story from Kristan T Harris over at the American Intelligence Report shares with us some very interesting history of the United Nations in America going back at least 6 decades.:
This is not the first time American politicians have attempted to sell their citizens out to the powers of the United Nations. 
The UN's first attempt to capture America was in 1951, under a top secret program titled, "operation AGGRESSI." 
In strange fashion, forces flying the flag of the United Nations began to occupy small towns and cities across the United States. This was intended to test the will of the people and see if they would accept a UN "takeover." The test failed and sparked controversy and concerns over a "revolution-in-the-making" that would destroy any plot formulated by the Council on Foreign Relations and the United Nations. 
Project AGGRESSI forces were quickly met with much resistance and silently left occupied government buildings and removed United Nation flags nationwide. Jewish broadcaster Myron C. Fagan documented the secretive operation in the 1960's claiming "the UN 'invasions' were intended to be completely hush-hush. The Mass Media were very accommodating and the local newspapers and Radio Stations in the 'invaded' cities were kept silent under order of the UN. However, in several of the cities the local police refused to be 'captured'. That caused quite an uproar — true, only locally, but it threatened to spread nationwide, especially after troops and officers assigned to additional 'invasion units' refused to 'serve'. The alarmed plotters hastily halted all further 'invasions'."