Forbes CEO Steve Forbes Speaks to Money Metals on Gold and Politics (Podcast)
Well, the big market moving news this week didn't come from the Federal Reserve for a change. It came from another powerful market rigging cartel – OPEC. The organization of oil exporters announced a production cut of 800,000 barrels a day. This, OPEC hopes, will keep oil prices supported amidst a global supply glut.
Following the announcement, crude oil prices shot up more than $3 to hit $48 per barrel. Conventional producers would like to see oil trade in the $50 to $70 range. That wouldn't be unreasonable considering that crude traded above $100 as recently as 2014 before crashing to below $30 earlier this year. The one thing the oil market can be counted on to do is wildly overshoot and undershoot equilibrium price levels.
The same is often true in the precious metals markets. When gold and silver prices fell below mining production costs in late 2014, the fundamental analysis showed those low price levels to be unsustainable. Yet they persisted longer than many analysts expected. Gold and silver markets finally began pushing higher in 2016. And like crude oil, precious metals still have a long way to go before reaching levels on the charts that could even remotely be regarded as elevated.
Precious metals prices sold off early this week and didn't reap much benefit from the oil price surge mid week. We got off to a good start in the metals today after another negative consumer spending report came out. Gold has pulled back since this morning however and as of this Friday recording the yellow metal trades at $1,323 an ounce, down 1.3% for the week. Silver is still up a bit today with prices currently coming in at $19.38, registering a weekly decline of 1.9%.
Platinum is off 2.0% since last Friday's close to trade at $1,038 per ounce. Palladium, however, is bucking the downward pressure to put in a weekly gain of 3.3%. That brings the palladium price to $727 an ounce.
Audio Interview Download/Listen Here>>>
In other news, stocks fell sharply Thursday afternoon on fears that Deutsche Bank could be on the verge of going under. The troubled German bank's share price has already been nearly obliterated this year. But now the concern is whether other large financial institutions run into similar trouble, potentially setting off another global financial crisis.
Here at home, Wells Fargo CEO John Stumpf got grilled on Capitol Hill. The mega bank is under fire for aggressive sales quotas gone wrong. Wells Fargo employees pushed customers to open extra accounts they didn't want or need. Some even had fee-laden accounts opened in their name without their knowledge or permission. Rogue Wells Fargo staff – or at least that's what the company will have you believe – created as many as 2 million bogus accounts.
Unfortunately, deceptive and high pressure and sometimes outright fraudulent sales tactics remain widespread in some areas of the investing world. Pump and dump schemes involving penny stocks have migrated from boiler rooms to Internet message boards and email lists. But even conservative investors who are only seeking safe investments need to be careful.
There are slick TV commercials currently airing on cable news channels that tout the safety and security of precious metals. However, and sadly, almost all of them are based on the tried and true model of bait and switch. The bait is gold and silver itself. The switch comes when you call to inquire about buying gold and silver bullion, and you instead get a sales pitch for proof coins and obscure, supposedly historical, supposedly rare collectible coins. The types of coins they want you to buy inevitably carry huge mark ups over regular bullion coins.
It's easy to get ripped off if you're unfamiliar with things like numismatic premiums and bid/ask spreads. You may not realize you got a bad deal until months or years later when you discover that you can't find a buyer for your obscure coins at anywhere near what you paid for them – assuming they were actually rare in the first place, which isn't always the case. Quite often, a coin dealer might offer you little more than melt value for them. Even over a period of rising spot gold prices, you can still lose money on a gold coin if you paid too steep of a collectible premium to acquire it.
When you buy widely recognized bullion products that carry low premiums – exactly the kind of things that Money Metals Exchange sells — you can be sure your holdings will increase in value as spot prices rise. And you will have absolutely no trouble selling back bullion coins, rounds, and bars into a liquid market.
Here at Money Metals Exchange, we will buy back whatever items we sell – and that applies to products that you didn't purchase from us in the first place. We will tell you the bid/ask spread on a product up front before you buy – we even publish our buy prices on each and every product page on our website for all to see. We don't treat our customers as monthly sales quotas to be met at any cost. Whether your order is large or small, we aim to earn your trust and loyalty for all of your bullion transactions.
Well now, for more on the importance of gold and silver and the role it can and should play as a part of our nation's monetary policy, let's get right to our exclusive interview with a well-known billionaire investor and former Presidential candidate.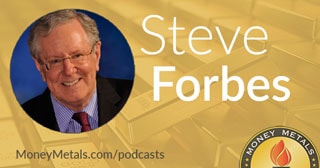 Mike Gleason, Director, Money Metals Exchange: It is my great privilege to welcome Steve Forbes, Editor-in-Chief of Forbes Magazine, CEO of Forbes, Inc. to our Money Metals Exchange podcast. Steve is also author of many fabulous books, including Flat Tax Revolution, How Capitalism Will Save Us, and his latest work, Reviving America: How Repealing Obamacare, Replacing the Tax Code and Reforming the Fed Will Restore Hope and Prosperity. He's also a two-time Presidential candidate, having run in the Republican primaries in both 1996 and 2000. It's a tremendous honor to have him with us today. Mr. Forbes, thank you so much for joining us and welcome.
Steve Forbes, CEO of Forbes, Inc.: Good to be with you, Mike. Thank you.
Mike Gleason: I want to start out by getting your take on the 2016 Presidential election cycle, especially given your first-hand experience in the whole process. We're seeing an anti-Washington voter revolt of sorts… it's the anti-establishment candidates that have been getting all the momentum. This is especially true on the Republican side, where we see an outsider like Donald Trump currently leading. What's driving this phenomenon, and is this a good thing or a bad thing?