You Want to Fix the Economy? Then First Fix Healthcare
We don't just deserve an affordable, sustainable healthcare system–we're doomed to bankruptcy without one.
What is blindingly obvious to employers but apparently invisible to the average zero-business-experience mainstream pundit is this: if you want to fix the economy, you must first fix healthcare. If you want to pinpoint a primary reason why U.S. enterprises shift jobs overseas, you have to start with skyrocketing healthcare costs.
According to a report by the St. Louis Federal Reserve, real (adjusted for official inflation) wages have risen a mere 3% since 1970. (No wonder wage earners don't feel wealthier; if we use a more realistic measure of inflation, we haven't gained 3%–we've lost ground.)
But if we look at total compensation costs paid by the employer (health insurance, workers' compensation, employer's share of Social Security, etc.) we find that these costs have soared 60%. In other words, if these labor overhead costs had remained stable (i.e. gone up only as much as inflation), employers could have distributed raises of 60%.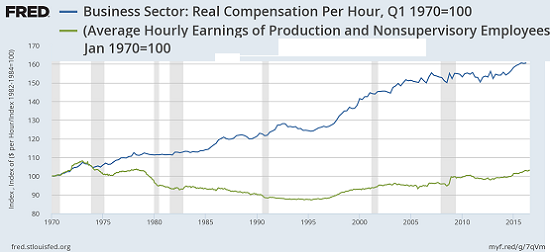 These labor overhead costs are the reason why wages have been stagnant for 46 years, and the dominant overhead expense is healthcare insurance. Why has healthcare soared from 6% of GDP to 18% in four decades?
One reason is we have the worst of all possible worlds: we have a healthcare (what I call sickcare, because sickness is profitable but health is not) system in which for-profit corporations–cartels with immense political power–set the prices, and the government pays them.
If you set out to design a system that optimizes price-fixing, fraud, over-testing, questionable procedures, pharmaceutical advertising to a credulous public and opaque billing, a system with no real limits on prices, you'd end up with the American sickcare system.