Sinkhole City Chicago in Worse Fiscal Shape than Detroit?
If the City of Chicago Were a Bank … 
By Bill Bergman
One of the lessons we didn't learn in the savings and loan crisis in the 1980s was the importance of "prompt corrective action" in bank regulation and supervision.
Back then, underwater "thrifts" were kept afloat with less-than-truthful regulatory accounting principles that hid their effective insolvencies, allowing well-connected parties to feast off the public purse, unleashing incentives that ended up trebling the cost to taxpayers.
In theory, "improved" legislation and regulation arrived, under the cry of "never again." Among other things, the new systems developed "tripwires" designed to force intervention into failing institutions before large and/or widespread failures threatened the public purse again.
Less than twenty years later, the Big One arrived in 2007-2009, despite (or because of) these fixes.
How about municipal governments? Why do city and state "balanced budgets" sound like those "tripwires?"
For some perspective on questions like these, let's take a peek at the Midwestern cities of Indianapolis, Chicago, and Detroit.
In 2013, Detroit filed for bankruptcy under Chapter 9 of the federal bankruptcy code. What did some simple financial trends look like in Detroit before, during, and after that development?
Indianapolis is a good place to start. The state of Indiana and its largest city have been in relatively good shape in the last decade, compared to their immediate northern and western neighbors. Here's a look at the difference between general revenues and net expenses (leading to a bottom line measure akin to "net income" in the private sector) for the city of Indianapolis from 2006 through 2013.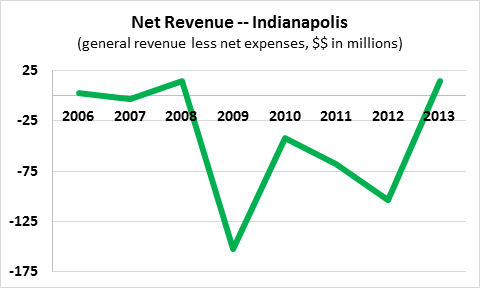 The bottom line took a hit in Indianapolis in 2009 – not altogether unreasonable, given that the economy had entered the worst economic and financial crisis since (at least) the Great Depression. By 2013, the bottom line poked its head above zero, again.