Gold & Silver Surge on Federal Reserve Smoke & Mirrors (Podcast)
Coming up we'll hear a wonderful interview with Guy Christopher, one of our most popular columnists at MoneyMetals.com. Guy enlightens us as only he can on a couple of well-known but very misunderstood stories – Robin Hood and The Wizard of Oz – and explains how both underwent changes and ultimately developed either a socialistic or an anti-sound money narrative. You will not want to miss a fascinating interview with Guy Christopher, coming up after this week's market update.
Well, it's been a big week in the precious metals markets, with gold and silver prices surging following the Federal Reserve's rate decision.
As expected, the Fed left its benchmark interest rate unchanged. Fed chair Janet Yellen touted "progress" in the economy. She expressed confidence that more progress would allow the Fed to hike before the end of the year – just not before the election.
Of course, there is plenty of suspicion swirling that the Fed's policy timing is politically motivated. Yellen herself issued a pointed denial following Wednesday's policy announcement. Doth protest to much?
NBR News: The Fed's next meeting comes just one week before the November elections with the Fed chair dismissing statements from Republican Presidential nominee, Donald Trump, that policymakers are playing politics with interest rate decisions.

Janet Yellen: I can say emphatically that partisan politics plays no role in our decisions about the appropriate stance of monetary policy.
If Fed officials were in the bag for Hillary, they surely wouldn't come out and admit it. So their denials don't prove that their decisions are free from political bias. At the same time, it would be difficult to prove that they are intentionally trying to help Hillary Clinton win the election. Fed officials are very careful with what language they let slip out to the public.
The Fed operates behind an institutional veil of secrecy. And so far Fed officials and their allies in Congress have successfully resisted a public audit of the Federal Reserve. But the fight to audit the Fed continues. Representative Thomas Massie is helping lead the push in Congress. He pushed the latest version of the Federal Reserve Transparency Act through committee this summer. The bill is now eligible for a full House vote. The last time that happened, Audit the Fed passed by an overwhelming 333 votes to 92.
But in the Senate, key Democrats have blocked the bill. With party control of the Senate up for grabs this fall, monetary reformers hold out hope that the next Senate will be more favorable to auditing the Fed.
Republicans aren't likely to do any better than keep their current tally of 54 Senate seats. With the way the competitive races are lining up now, top political forecasters expect Democrats to pick up at least a couple seats. Perhaps, though, some incoming Democrats will be more open to making a deal on auditing the Fed. Senate Minority Leader Harry Reid is retiring, offering at least some room for hope that things will be different in the next Senate.
In the meantime, it's business as usual in Washington and on Wall Street. The stock market responded positively to the Fed's latest non-hike, as did the bond market and the precious metals markets.
AUDIO INTERVIEW DOWNLOAD/LISTEN HERE>>>
For the week, gold is up $19 or 2.2% to bring spot prices to $1,340 an ounce. Gold is glittering as we head officially into the fall, but silver is shining even brighter. Silver prices advanced strongly this week through Thursday's close to touch the $20 level. As of this Friday morning recording, silver trades at $19.84 per ounce, up a full dollar on the week and good for a 5.3% gain since last Friday's close.
Turning to the platinum group metals, platinum prices trade at $1,057, up 3.6% this week. Platinum has traded at a discount to gold for the past 2 and a half years and continues to represent a value opportunity within the precious metals space – arguably more so now than palladium. Palladium currently checks in at $707 an ounce and is registering a 4.7% weekly gain.
The positive post-Fed price action in all the precious metals is an encouraging sign for bulls who are looking for a big fall rally. America's avowedly non-political central bankers seem content to elevate all asset markets, at least until after the election. At some point, there will be a letdown and possibly a hard landing in the stock market. And at some point, gold and silver will decouple from stocks, bonds, and other financial assets.
But for now, everything is floating on a rising tide of Fed liquidity. Odds favor a higher stock market and higher precious metals prices in the weeks ahead.
Well now, without further delay, let's get right to this week's exclusive interview.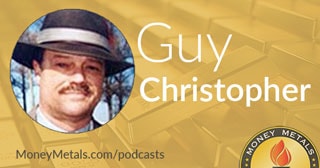 Mike Gleason: It is my privilege now to welcome Guy Christopher, one of the featured columnists on our MoneyMetals.com website. Guy is an investigative journalist and published author, but he's also a former stockbroker and veteran of the 101st Airborne serving in the Vietnam War. All of this real world experience combined with his communication skills has helped him provide our readers and customers with some really great insights. We have thousands reading and commenting on his writings each time we publish one of his pithy articles.
Guy, welcome back, it's always great to talk to you and it's been a while. How are you?
Guy Christopher: Well thank you Mike, it's a pleasure to be with you and an honor to be invited on your program.
Mike Gleason: I'm excited to have you on today because it allows us to ask you about some of the great articles you've penned for us over these last few months. First off, in your piece titled The Colors of Money, you wrote about how Andrew Jackson, a strong advocate against central banking, is going to be replaced on the $20 bill here soon. Something he probably never wanted to be on to begin with based on his ideas about paper money, but it's a slap in the face nonetheless. As we start out here, give us a little bit of background and history on the man they called Old Hickory. Talk about his insistence on waging a fight against the idea of central banking, something he even called "subversive to liberty".
AUDIO INTERVIEW DOWNLOAD/LISTEN HERE>>>