Mexican Peso Plunges against Dollar, in Toxic Cocktail of Forces
A recipe for a debt crisis.
By Don Quijones
On Monday morning the world's tenth most traded currency, the Mexican peso, set a historic precedent that few Mexicans will welcome. For the first time ever, one US dollar fetched as many as 20 Mexican pesos in some of the nation's banks, including its biggest, Bancomer, following eight consecutive days of losses.
Of all the international currencies tracked by Bloomberg, only the Surinamese dollar fell more against the U.S. dollar last week. The peso also holds the dubious distinction of being the worst performing major emerging market currency of 2016, having lost close to 12% of its value.
So far this week things have only got worse, as the peso's value slumped from $19.64 on Monday morning to $19.83 at the close of Tuesday's trading, while the cost of covering against a depreciating peso has reached historic levels in the derivatives market.
There are plenty of reasons for Mexico's peso woes, including the nation's slowing economy, the government's tightening fiscal strains, and the recent resignation of the Minister of Finance and Public Credit, Luis Videgary Caso, after being blamed for arranging an impromptu meeting between Mexico's Premier Enrique Peña Nieto and the Donald Trump.
The pains of much-shrunken, desperately debt-challenged, state-owned oil giant, Pemex, have also taken their toll. All these factors have contributed to the peso's spectacular fall from grace – it now takes 60% more pesos to buy $1 than it did in January 2014: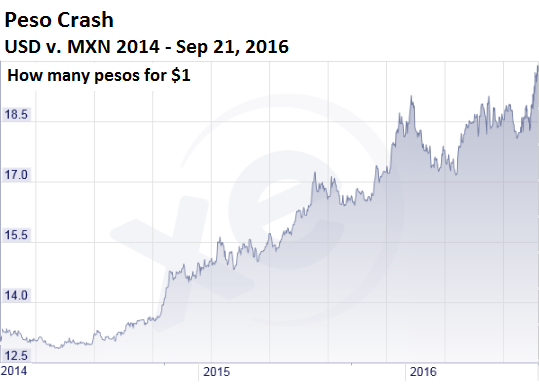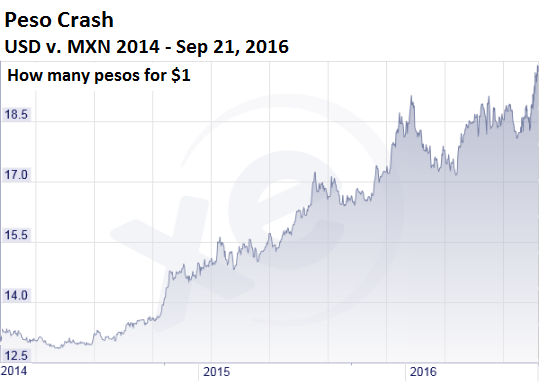 But the two most important reasons for its latest leg-down are:
The currency's status as a widely traded emerging market currency has led it to be widely used as a hedge to be sold in turbulent times against other emerging market positions.
The peso's newfound role as an insurance policy against a Trump victory in November's U.S. election.
As some investors are getting spooked over the prospect of a Trump presidency, they are hedging against such an outcome by shorting the peso, making it a perfect barometer of Donald Trump's US election chances, according to the Financial Times:
[A]s the head of emerging markets at one New York-based bank put it: "If you believe Hillary will win, you should be buying the hell out of Mexican assets."Alonso Cervera at Credit Suisse in Mexico City traces the link between the peso and the US election to early May, when Mr Trump won the Indiana primary and his rival Ted Cruz dropped out of the race. "The peso sold off and all the other emerging market currencies were unchanged," he said.