Chinese Consider Home Prices "High and Hard to Accept," but Buying Frenzy Surges
When will the Home Price Bubble blow up?
Home prices in China are "high and hard to accept," said 53.7% of the respondents in a survey by the People's Bank of China, published today in the People's Daily, the official paper of the Communist Party. Only 42.9% found them "acceptable." And only 23.1% predicted that they would rise next quarter, while 11.9% expected them to fall. But that isn't stopping people from wanting to participate in this frenzy:
Nevertheless, the ratio of residents who were prepared to buy a house within the next three months increased 1.3% from the third quarter to reach 16.3%.
That's a lot of people "prepared to buy a house," even with prices "high and hard to accept."
There are several remarkable things in this survey: the worried tone in terms of the soaring prices, the increased desire to buy because, or despite, of the soaring prices, and the fact that this survey came via the official party organ from the PBOC which has been publicly fretting about the housing bubble, the debt bubble that comes along with it, and what it might do when it deflates.
And what a bubble it is!
The average new home price in 70 Chinese cities soared 9.2% in August year-over-year, after having jumped 7.9% in July, the eleventh month in a row of year-over-year gains, according to the China Housing Index, reported by the National Bureau of Statistics. In Tier 1 cities, prices skyrocketed: in Beijing, by 23.5% and in Shanghai by 31.2%!
Prices increased in 64 of the 70 cities, up from 51 in July. They fell in only four cities and remained flat in two. This chart by tradingeconomics.com shows the year-over-year percentage change in new home prices, the boom and bust cycles, and the stage of the boom where prices are at the moment: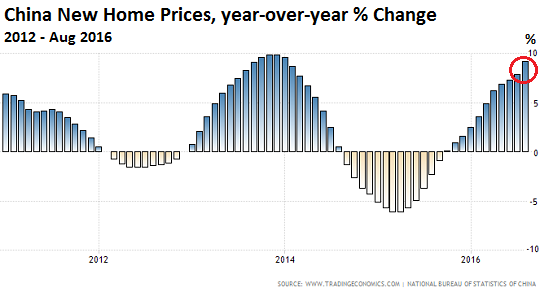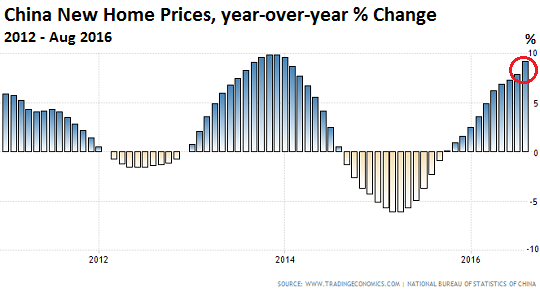 Housing construction is critical to the Chinese economy. When construction suddenly slows down, as it does when the housing bubble deflates, it has deep and broad effects. And this phenomenal home price bubble and the construction bubble that comes with it are funded by ballooning debt: outstanding bank loans to households, mostly mortgages, surged 21% in August year-over-year, according to Bloomberg's math.