First Majestic's Keith Neumeyer: "Silver Mines & Silver Are Way Rarer Than People Actually Think"
TDC Note – We discussed this with Keith back in May 2016 and you can listen to that conversation by clicking here
####
Coming up we'll hear a fantastic interview with Keith Neumeyer, CEO of First Majestic Silver Corp. Keith gives an insider's take on the tremendous and unsustainable imbalance that exists between the available mine supply of silver compared to gold and what it likely means for the silver to gold ratio. And you'll definitely want to hear Keith's long term price target for the white metal, which may surprise you. Don't miss my conversation with Keith Neumeyer coming up after this week's market update.
So are precious metals markets about to break out or break down? We saw hints of an upside breakout earlier this week – in fact, both gold and silver pushed slightly higher to hit new closing highs for the year on Tuesday. But the move wasn't accompanied by a huge surge in buying, and, especially after this morning's solid employment report from the U.S. Government, prices have fallen back into the confines of trading ranges that have persisted over the past month.
As of this Friday morning, gold prices come in at $1,340 per ounce, down 1.0% for the week. Silver, which was flat through Thursday's close now shows a 2.7% weekly loss to trade at $19.84 an ounce. Gold and silver are both selling off here today thanks to the announcement of that better than expected jobs report for July.
Where precious metals prices are headed this coming week or next month is really anyone's guess. The near-term outlook will ALWAYS have more to do with the latest news events, technical levels, and momentum gauges than with fundamentals. But the long-term trend will ultimately be determined by the fundamental drivers of supply and demand.
One of the greatest fundamental underpinnings for a gold and silver bull market is the fact that most all other perceived forms of money around the world are being debased. The latest central bank to make its currency less attractive is the Bank of England. This past Thursday, England's central bank cut its benchmark interest rate for the first time in more than 7 years. Policymakers pushed the lending rate down to a miniscule 0.25%, the lowest in the 322-year history of the Bank of England. They also rolled out new bond-buying programs they hope will stimulate a weak economy and counter post-Brexit selling of British financial assets.
Britain joins other countries that have entered uncharted territory in terms of monetary policy. Many of England's EU neighbors already have negative interest rate policies in place. Britain could well follow suit before the end of the year.
In an era of globalization and coordination among world central banks, the Bank of England's decision to cut makes it all the harder for the U.S. Federal Reserve to hike. The recent GDP disappointment, as well as political considerations surrounding the upcoming election, already meant the Fed likely would do nothing until December. Now the odds are increasing that the Fed's next move, whenever it comes, could actually be to CUT rates. Or perhaps announce a new emergency asset purchase campaign.
AUDIO INTERVIEW DOWNLOAD/LISTEN HERE>>>
Central banks are no longer limited to just buying government bonds. Central banks are acting like giant hedge funds now, playing with unlimited quantities of currency created out of nothing. Many have ventured into corporate debt, stocks, even real estate and tangible assets. Some are following the lead of Russia and China in expanding their gold reserves. But by and large, they are amassing ever more paper on their balance sheets.
Buying up trillions of dollars in bonds and driving down interest rates to levels previously thought impossible hasn't done much to help central banks achieve their stated goal of stimulating economic growth. They haven't even been able to raise official inflation rates as a side effect of their unprecedented efforts. They have instead created a gigantic bubble in the global bond markets that makes all previous stock market bubbles look small by comparison. Stock investors never got crazy enough to go for stocks that sport a negative dividend yield.
The insanity now gripping the bond markets is enough to drive the world's most famous bond fund manager out of his own asset class. Bill Gross of Janus Capital said in his latest commentary that he doesn't like bonds or stocks as investments anymore. He is shifting his focus to tangible assets including gold. It's a radical change in thinking for someone who has built a lucrative career on financial assets.
Unfortunately, most investors are still choosing their investments and making their retirement plans based on assumptions that haven't changed with the new, low yield realities. Bonds are an asset class that has worked for 35 years. The belief that bonds are steady, safe, and gain value over time is deeply entrenched among the investing public and most financial advisors. The risk that their assumptions will turn out to be wrong, though, is very real.
If at some point the bond market breaks, those who are diversified into physical precious metals will have some protection against the fallout. The time to acquire gold and silver as insurance is BEFORE the next financial crisis makes headlines, not after.
Well now, without further delay, let's get right to this week's exclusive interview.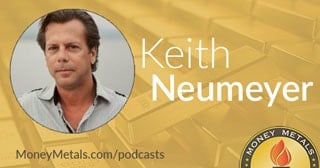 Mike Gleason: It is my privilege now to bring in Keith Neumeyer, Founder and CEO of First Majestic Silver Corp, one of the top silver mining companies in the world. Keith has an extensive background on the resource and finance sectors and has also been an outspoken voice about concerns of distortions in the futures markets pricing for silver. It's a real privilege to have him back on with us again.
Keith, thanks so much for joining us and welcome back.
Keith Neumeyer: Thanks very much. It's exciting times, obviously, for everyone.
Mike Gleason: Yeah, it certainly is. To start off here, Keith, things are significantly different today here in August compared to where they were back in early February when we talked to you last. Both gold and silver have had fantastic starts to the year. One of the things I asked you when we had you on earlier in the year was whether or not you believed we would finally get some follow through after a good first month of 2016 because that is something we did not get after good starts to the metals in 2014 and 2015. You said it felt like it was different this time around and you were fairly confident and you were dead-on correct. So what's your take on the first 7 months of the year here… what have been some of the key drivers for the advance in your view… and then how different is the environment today for someone in your position versus say 6 or 8 months ago?