Dow:Gold Ratio Reveals Sharp Downturn in General Stock Market
Welcome to this week's Market Wrap Podcast, I'm Mike Gleason.
Coming up we'll hear from David Smith, senior analyst at The Morgan Report and regular contributor to MoneyMetals.com. David tells us whether or not the current rally in gold and silver has legs, and also shares some savvy insights on how to avoid making amateur mistakes and letting your emotions get in the way of making sound investing decisions. Don't miss a fantastic interview with David Smith coming up after this week's market update.
The big news out of Wall Street this week is that the S&P 500 and Dow Jones Industrials each broke out to new record highs.
Fox Business Anchor: Well, the S&P 500 has raced out to a new all-time high and other major indices are right on the cusp.

CNN Anchor: Some pretty solid news out there for investors. The Dow has closed at an all-time high after gaining about 125 points on Tuesday. Also good news for the S&P 500 as well. It hit record high for the second day in a row.

Fox Business Anchor: The stock market rally is long in the tooth, in fact now it's the second longest bull market in history
Yes, the bull market in stocks is quite long in the tooth. So any investors who are thinking of buying this breakout would be getting in very late in the game. If a typical bull market is like a nine inning baseball game, this one is now pushing into extra innings. It could end at any time, suddenly and without notice.
Stocks may already be in the first or second inning of a bear market in terms of gold. The Dow Jones actually peaked last December when measured in gold. The Dow to gold ratio hit a high of 17 to 1 and has since slid sharply. Year to date the Dow is down 15% versus gold and down a whopping 27% versus silver. But you won't hear these figures bandied about in the mainstream financial media!
The stock market gained against gold this week to bring the Dow to gold ratio up near 14 to 1. But there is more potential downside for stocks in terms of precious metals in the months ahead. The Dow could drop more than 50% in gold terms to equal its 2011 low at 6 to 1, when gold prices peaked at more than $1,900 per ounce. From there, the ratio could still conceivably drop much further. Some gold bugs see the Dow to gold ratio returning to 1 to 1, an equilibrium last recorded when gold prices hit a secular top in January 1980.
Gold may well be on its way to new all-time highs, but prices suffered a bit of a setback this week. Gold is down $40 an ounce or 2.9% this week to trade at $1,328 an ounce as of this Friday morning recording.
AUDIO INTERVIEW DOWNLOAD/LISTEN HERE>>>
The white metals are faring a bit better. Silver shows a weekly decline of just 0.6% to bring spot prices to $20.19 per ounce. Platinum is down 1.2% this week to trade at $1,087. Palladium prices jumped 4.0% as the lesser known precious metal closed Thursday at new highs for the year. Spot palladium prices are off slightly today and currently come in at $646 an ounce.
Of course, the white metal most in demand among investors is silver. The Silver Institute this week released a report on surging investment demand for silver in the first six months of the year. According to the Institute, holdings in silver exchange-traded-products hit a record 662 million ounces. COMEX silver futures contracts also grew to record levels. As for actual physical silver bullion demand, coin sales in North America are up 29% in 2016 on the heels of a record year for Silver Eagle demand in 2015.
Strong investment demand could single handedly push the silver market into a deep supply deficit and be the catalyst for much higher prices. Although industrial use remains the largest single component of silver demand, we don't necessarily need growth in industrial demand to drive the bull market. Rising investment demand at the margins coupled with a drop off in new mining supply are enough to turn the fundamentals of the silver market wildly bullish.
There are few primary silver mines in existence. Most silver is mined as a byproduct of base metals mining operations. With copper and other base metals prices still in the dumps, there is little incentive or ability for struggling mines to ramp up production.
Even if silver prices continue to march higher in the months ahead, downward pressure on new silver production will persist for some time. It can take years to restart a shuttered mining operation or bring a new one into production. In the meantime, investment demand for physical could exert an outsized influence on the direction of the silver market.
Well now for more on where silver may be headed in the future, and much much more, let's get right to this week's exclusive interview.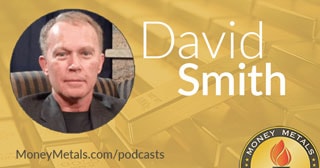 Mike Gleason: It is my privilege to be joined now by David Smith, senior analyst at The Morgan Report, and regular contributor to MoneyMetals.com. David, it's always great to have you with us. How are you?
David Smith: Very good, Mike. I enjoy coming back.
Mike Gleason: Well, as we're talking here on Thursday morning, we're seeing the metals holding up quite well under the circumstances, and especially given the recent strong advance by the sector. Prices have pulled back some, and maybe we're seeing a pausing of sorts here after the big run up that we saw immediately following the Brexit decision. But silver is $3 an ounce higher today than it was essentially 3 weeks ago, if you go back to the day before the Brexit vote. Coming into this week, we had 6 straight weekly gains in silver. So the question on nearly everyone's mind, David, is does this rally still have legs? If you think it does, what makes this one different from rallies we've had over the last 5 years that have always seemed to fizzle out rather quickly?
-->