The UN Will Soon Control Food Distribution In America
A string of coincidences occurred, yesterday, to produce some undeniable conclusions which could very well have very dire consequences for millions of Americans.
Using Food As a Weapon
Since 2011, I have noted that it is likely that at some critical juncture, Obama will use food as a weapon against an uncooperative population. My previous conclusion was based largely on the content of Executive Order (EO) 13603.
Coupled with this knowledge, The Common Sense Show has learned the following approximately 5 months ago:
Jade Helm is back and it is back and it is back  with a vengeance. Jade Helm 15 has morphed into Unconventional Warfare Exercise 16 (UWEX 16).
UWEX 16 is about fighting a civil war against rogue American troops who will, presumably, not go along with the imposition of tyranny under the banner of the UN flag with the complicit support of foreign troops.
There is a new twist to Jade Helm 16 (i.e. UWEX 16).
I have learned from reliable sources that Jade Helm 16 is also about controlling the shipment of all food. If one thinks this sounds outrageous, stay tuned, because the circumstantial evidence clearly points in this direction.
My investigation was initiated when I received the following email:
To the staff of The Common sense show:

My cousin is deployed in Army Spec. Ops at Ft. Bragg. He is going to be expected to take part in guerrilla warfare drills against rogue military forces. After arriving at Ft. Bragg, he was still permitted to leave the base. We live in Texas and drove to meet him. When we went to lunch. he had all of use leave our cell phones in the car and we walked a block to eat dinner.  He said that they were beginning to receive briefings about taking on rogue military units in a guerrilla war scenario.  He assumes they are American military units, but they were not told that when he was presented with their newly created training specs.

He has a role in this exercise, but I will not reveal the nature, as we do not identify him. He said he is being moved from Ft. Bragg to another base that has not yet been identified. He suspects that it is in the area because their deployment gear remains the same. He told us that he fears the drill could go live for many reasons…
Since the beginning of 2016, I have received several confirmations that indeed  UWEX 16 is in part about controlling the distribution of food as well as protecting against a guerrilla attack upon food distribution centers which will be controlled by Wal-Mart and Sams Club under the auspices of DHS.
In November's 2014, the controversy surrounding the $36 reduction in food stamp entitlements continued to settle in, reports covering the past several months, regarding the government spending over $80 million to protect its own buildings from food stamp rioters, continues to concern those who are following the rapid increases in food prices across the planet.
Additionally, and presently, one million of the nation's poorest people will be cut off SNAP (formerly known as the Food Stamp Program) over the course of 2016, due to the return in many areas of a three-month limit on SNAP benefits for unemployed adults aged 18-49 who aren't disabled or raising minor children. The new federal regulations call for individuals to lose their food assistance benefits after three months regardless of how hard they are looking for work.  The impact will mostly be felt in the 22 states that are adopting the new federal guidelines to the letter of the law.
In recent weeks, EBT has been in the news again when recipient EBT card holders could not access food because their cards were not functioning properly. Many have seen this for what it is, a BETA test to disrupt EBT cards leading to martial law because of the resulting food riots in yet another false flag attack.
I have learned from reliable sources that the food riots being practiced for in Jade Helm 16 (UWEX 16) are related to EBT cards as well as other variables. I have also learned from confidential sources that this same drill is practicing for the control of food distribution (i.e. using food as a weapon of compliance). 
Obama's EO 13603, released in 2011,  clearly speaks to these goals.
With the stroke of his pen, Obama has total and absolute control over all food where his EO 13603 states:
e)  "Food resources" means all commodities and products, (simple, mixed, or compound), or complements to such commodities or products, that are capable of being ingested by either human beings or animals, irrespective of other uses to which such commodities or products may be put, at all stages of processing from the raw commodity to the products thereof in vendible form for human or animal consumption.  "Food resources" also means potable water packaged in commercially marketable containers, all starches, sugars, vegetable and animal or marine fats and oils, seed, cotton, hemp, and flax fiber, but does not mean any such material after it loses its identity as an agricultural commodity or agricultural product.

(f)  "Food resource facilities" means plants, machinery, vehicles (including on farm), and other facilities required for the production, processing, distribution, and storage (including cold storage) of food resources, and for the domestic distribution of farm equipment and fertilizer…"
This unconstitutional EO is particularly disturbing in that it clearly states that the government has control over anything that is "capable of being ingested by either human beings or animals…"
I first wrote about this in the fall of 2015. I wrote about it again in February of this year. However, there is new information that unexpectedly came to me from two different sources which continues to add to this mystery.
Insider Source Reveals that the UN Will Control Food Distribution
Yesterday, I was contacted by one of my most reliable sources. In the course of our conversation, he revealed that the United Nations is in the process of being allowed to control several key communications facilities, to UN control, in an attempt to manage the martial law that is coming our way. In the course of our conversation, my source was called away with a promise to contact me later in the same day. In the interim, I had a very revealing conversation.
John Moore and Paul Martin
Paul Martin called me late yesterday afternoon with information that our mutual friend and colleague, John Moore, is stating that UN forces are being housed at Buckley Air Base in Aurora, Colorado, and that they are being kept segregated from the domestic forces stationed at the base.
Late last night, I heard back from my source and he confirmed that Buckley is one of the facilities that will be given over to the UN when domestic unrest unfolds in this country. I asked him why Buckley? He stated that the base has unique command and control communications features that will be needed to coordinate the movement of martial law troops and the control of resources. This is not the first time that Buckley Air Base has been in my wheel house.
In late Jule of 2014, Steve Quayle posted a Q alert on his website regarding the presence of Russian soldiers who have been spotted in the Aurora Mall area (near Exposition and Sable Blvd located in Aurora, Colorado which is an eastern suburb of Denver). I grew up give five minutes from the base and have sources that were able to confirm Steve's report. By the way the Aurora Mall area is where the movie theater is located in which the infamous Batman shooting took place. Also, there are Russians, in large numbers in Colorado. The majority of the Russians in Colorado are housed at Ft.Carson, just south of Colorado Springs nearly 80 miles away from the Aurora Mall. Based upon what I have learned, these Russians are not representing the Russian military, they are part of a United Nations contingent and they are being trained for their role in the upcoming domestic riots and civil insurrection.
There are also reportedly Russians under the Denver International Airport (DIA), 20 miles to the north of the mall and they have been there since Operation Mountain Guardian which was a disaster drill held in Denver in 2011. The underground structures, located beneath DIA are part of the Continuity of Government program. Many federal administrative programs have been transferred to Denver from Washington DC (i.e. CIA) in case of a devastating attack upon the Capital.
Second, I am aware that there has been a contingency of Russian soldiers living in Aurora who are affiliated with Buckley Air Base which is located five miles west of the Aurora mall. The Russians have been in Colorado since at least 2011 which was the date that corresponds to Operation Mountain Guardian. One can Google Operation Mountain Guardian (OMG-2011) on the search engine of the Common Sense Show where I have written multiple analyses. In short, OMG was about transporting Denver school children from their schools to Sports Authority Field in Denver and holding the children until the parents showed up (to the FEMA camp). The parents, in this case were played by crisis actors. Also at OMG, they practiced food distribution, or the withholding of food.
The "stationing" of Russian soldiers at Buckley Air Base is significant because the base is known for its top secret command and control grid related to the space based platforms satellite surveillance system. The knowledge of this program is not very well-guarded, but the operation details are impossible to penetrate as I have tried for sometime to develop confidential sources in regard to the base and its clandestine mission. The fact that the Russians are in the area, should be concerning to all since we are on the edge of war with Russian over Syria, Iran and Ukraine. Please note the following pictures: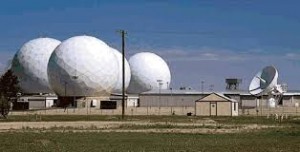 The secrecy surrounding the base has to do with these "golf balls", which are pictured immediately above. These devices are not weather monitoring devices, communication enablers as advertised. The golf balls have been the source of several cover stories put forth by the Air Force, none of which, makes any sense. The only other place that we see these structures, that I am aware of, is at Pine Gap. The last sentence should get your attention!
These structures are among our nation's top secrets and the fact that the Russians are within a short jog should be concerning. Buckley AFB is part of the Air Force Space Command.
I would also admonish all to ignore any source which states that they know the true mission of this base. I have known people on the inside of this base and nobody is talking. However, we can say for certain that this base, with its communications capabilities will give whomever controls Buckley unbridled access to all communications which is what would be desired in a martial law scenario.
Here are the officially listed operations associated with this mystery base:
Headquarters, Colorado Air National Guard 
2nd Space Warning Squadron 
8th Space Warning Squadron 
566th Information Operations Squadron 
Detachment 45, Air Force Technical Applications Center 
Detachment 801, Air Force Office of Special Investigations 
Aerospace Data Facility 
Navy Marine Corps Reserve Center 
Combined Task Force 
Air Force Auditing Agency 
Colorado Army National Guard 
Civil Air Patrol
I am certain that the Russians are concerned about the three highlighted functions of the base listed above. I am convinced that when domestic trouble commences, this base will serve as command and control for the imposition of martial law. And when we hear, see and read about multiple reports of UN vehicles being transported around the country, we should consider this to be the pre-positioning of assets designed to enforce the takeover of key facilities such as Buckley.
There are more facts that I covered last night which serve to bolster this conclusion supporting a UN takeover.
Walmart and Sam's Club
It has long been established that Walmart has long ago adopted military-style distribution strategies. It was thought at one time that Walmart would be doing their patriotic duty in a time of war. That is no longer my operating hypothesis. Walmart is part of the plot to control the distribution of crticial assets in times of domestic unrest. In short, and in cooperation with FEMA and DHS, Walmart has the largest distribution processing centers in the world. Their three main product areas are food, clothes (called fashion) and medicine. In light of the Walmart closings, without proper justification in 2015, and the subsequent reopenings, one would assume that this was part of the reason for Walmart's anomalous behavior in the Summer of 2015.
MWPVL did an in-depth study of Walmart's distribution centers and the conclusions are staggering as to what they can do and what they are up to. If one was to want to control food and medicine distribution and create an artificial shortage designed to get the needy to turn themselves into a FEMA camp to obtain critical resources, Walmart is your place. Here is a list of Walmart distribution centers across America.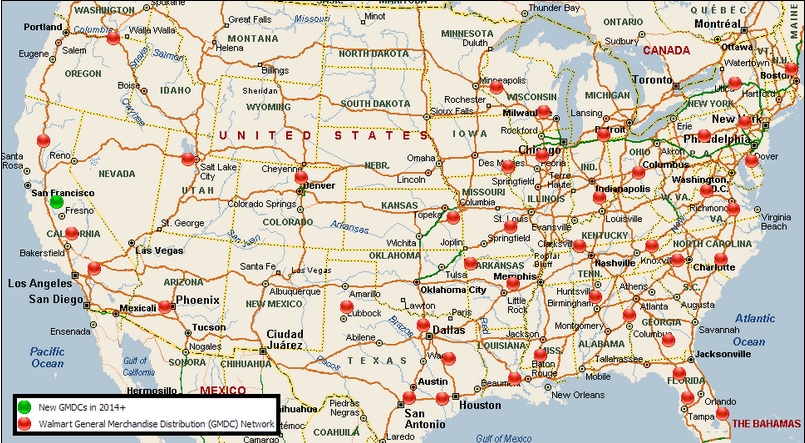 More support for the idea that the military/DHS will use a private contractor to control the use and release of critical resources (i.e. food and medicine) comes from a quartermaster report entitled Distribution and Supply Chain Management: Educating the Army Officer A Monograph by Lieutenant Colonel Mark E. Solseth U.S. Army, Quartermaster.
This very lengthy analysis described the Army's transition from a mass-based logistical system to a distribution-based system which matches Walmart and Sams Club. It also discussed supply chain management from both a military and commercial perspective. The dots are connecting in a very disturbing manner.
Conclusion
There is no need for hyperbola or an in-depth analysis. The facts are clear. The United Nations has been handed the keys to the command and control centers. The United Nations will decide who eats and who starves and they have the perfect bait to lure people to FEMA camps, which they rehearsed doing in 2011.
Based upon the existing documentation, it is difficult for me to draw any other conclusion. If there alternative interpretations of the same facts, please leave them in the comments section of this article.