Lagarde: 'Brexit' Part of 2016 Geopolitical Uncertainty
by Jack Black, Andrew Mayeda, Jeanna Smialek, Bloomberg The global economy is beset by an array of political risks, from terrorism to the U.K.'s potential departure from the European Union, at a time when growth is at best mediocre, IMF Managing Director Christine Lagarde said. The world outlook is clouded by "weak growth, no new jobs, no high inflation, still high debt — all those things that should be low and that are high," Lagarde said in an interview in Frankfurt on Tuesday with Bloomberg Television's Francine Lacqua. The downside risks have increased and "we don't see much by way of upside," she said. The International Monetary Fund's view of the world economy has dimmed over the last six months, exacerbated by China's slowdown, lower commodity prices and the risk of financial tightening in many countries. The Washington-based fund, which will hold its spring meetings starting April 15, is warning that political populism now also poses a growing risk to the economic order, fueled by income inequality and the ongoing fallout from last decade's financial crisis.
"What we fear is this sort of very new mediocre," Lagarde said in the interview after delivering a speech at Frankfurt's Goethe University. In the talk, she urged governments to front-load structural reforms that can boost growth potential and warned that monetary policy can't bear the burden for supporting output alone. Lagarde, 60, a former French finance minister, used a quotation from Goethe's "Faust," in German, to chastise governments for not doing enough on the reform or fiscal-spending front to prevent economies from slipping into torpor. "The message well I hear, my faith alone is weak," she said. "There is always a good reason not to act. But that would be precisely the wrong move. The growth momentum is weak, risks are probably on the rise, and confidence is sorely lacking."
Lagarde flies to Berlin Tuesday for a meeting with German Chancellor Angela Merkel, with whom the IMF is at loggerheads on the subject of debt relief for Greece. Lagarde spoke after strongly-worded letters were exchanged in the aftermath of the publication by WikiLeaks of what it alleged was a transcript of an IMF meeting on the country's bailout program.
Fiscal Flexibility
Signaling some flexibility over the fiscal targets the IMF wants to see Greece meet in order to receive money from the fund, Lagarde said that in that case, more action on debt sustainability would be needed. The German government argues that Greece's debt-servicing costs are already sustainable. "If the primary surplus is a bit lower," then the debt operation needs to be stronger or longer term, "but it needs to add up," Lagarde said. The IMF isn't willing to "cut a deal on the side," bending its own rules on debt sustainability and reform. Lagarde, fresh from winning a new five-year term at the fund's helm, used her university speech to caution against being drawn to the kinds of forces that have fueled the populism-driven candidacies of Bernie Sanders and Donald Trump in the U.S. presidential election. While inequality has been declining on a global scale, the perception remains that "the cards are stacked against the common man — and woman — in favor of elites," she said. "To some, the answer is to look inward, to somehow unwind these linkages, to close borders and retreat into protectionism," she said, without naming any politicians. "As history has told us — time and again — this would be a tragic course."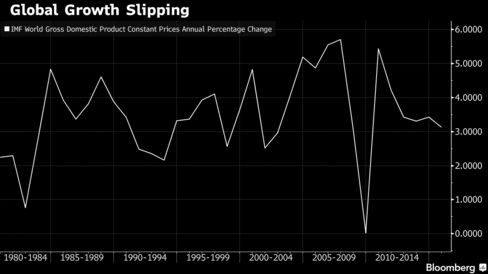 Lagarde's comments on the global economy add to signs that the IMF will downgrade its growth forecast when it releases its updated World Economic Outlook on April 12. Finance ministers and central bankers from the fund's 188 member nations will gather later that week for the spring meetings.
No Crisis
"The good news is that the recovery continues; we have growth; we are not in a crisis," Lagarde said. "The not-so-good news is that the recovery remains too slow, too fragile, and risks to its durability are increasing."
Watch Next: IMF's Lagarde Talks 'Brexit," China, and Greek Debt
Lagarde reiterated her call for countries to use all three major tools at their disposal to boost growth: structural reforms, fiscal stimulus and monetary policy. In the Bloomberg interview, she circled back to the political risks that menace the scenario of gradually improving growth prospects delivered by reform. Among them, the chances that the U.K. will leave the European Union after a referendum on June 23 looms large, Lagarde said. "We see also some very concerning geopolitical threats," she said in the interview. Brexit is "clearly part of the uncertainty that we have at the moment."