Did you know that Senator Lindsay Graham, a Republican from South Carolina, told fellow Republicans to vote for Hillary Clinton before voting for Donald Trump? Is he out of his mind. Actually, he is, but that is another story for another time. Hillary Clinton is one of the most infamous figures in American history. She has a trail of bodies and corruption longer than any other politician in the history of the United States. The following is a list of documentable legal transgressions by Hillary Clinton. When the reader has satisfied themselves that the allegations are in fact true, then I would ask that you would take this article and circulate it far and wide. We can never allow Hillary to set foot in the Oval office as the President of the United States.
As the nation's media is consumed with disparaging Donald Trump at every turn. Let's take a look at the true Hillary Clinton, the Democratic alternative.
America is facing unprecedented challenges and when one surveys the field of presidential candidates and we are forced to say that Donald Trump is our best candidate, it is safe to say that things could not be much worse. American is truly about to learn the meaning of the term "choosing between the lesser of two evils" and Hillary Clinton is as evil as they come.
Ron Paul Fears Hillary
With the country poised to go to war over Ukraine, Syria or North Korea, Hillary Clinton cannot be allowed to enter into the decision making in this frightening series of events or any other crises for that matter. A Hillary Clinton presidency would spell the sudden and decisive doom for this country. Is she worse than Obama? Undoubtedly, she would prove worse for the country than even the current President.
The Clinton Body Count
In every scandal that she has been a part of, the body count skyrockets, far beyond the normal actuaries of mortality. Nothing sticks to this woman. If Hillary ever becomes President, history has shown that she is capable of the greatest reign of terror ever perpetrated by a sitting President. Warmongers like John McCain are doing their best to lead the US into World War III on behalf of the globalist bankers in Ukraine. After reading the following, even an Obama phone recipient would be hard pressed to throw their blind support behind Hillary Clinton.
The More Things Change, the More They Stay the Same
In a case of the more things change, the more they stay the same, the scope of Hillary Clinton's criminality cannot be covered in one article. In fact, I doubt that it could be covered in one book. The body count stories alone, associated with both Hillary and Bill, could fill volumes. By some estimates, the body count now tops 85 victims. Therefore, in the interest of brevity, a brief comparison will be made between the Clinton Whitewater affair and the Benghazi murders of Ambassador Stevens and three other Americans. The undeniable conclusion that the reader will draw from these two comparative cases is that Hillary Clinton, one the President's former top cabinet members, is, has been and probably always will be a sociopathic criminal with no conscience
Whitewater and the Missing Billing Records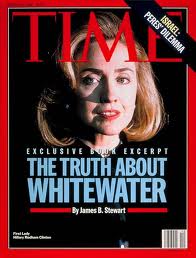 For those who were old enough to remember, you will recall that Whitewater was a real estate development in Arkansas which became a nightmarish scandal for Bill and Hillary when it became insolvent. Clintons' partner, Jim McDougal, owned a savings and loan association (i.e. Madison Guaranty) that hired Hillary and her firm, the Rose Law Firm. When the Savings and Loan institution failed, costing taxpayers $65 million, the Whitewater vacation development project collapsed as well. Hillary stated 99 times under oath in 1996, that she did not recall what work she did for Madison Guarantee. This is a stellar case in point why I believe that Hillary will never tell what she REALLY knows about the death of Ambassador Chris Stevens. After six hearings and $40 million dollars of investigations, Special Prosecutor, Ken Starr did not determine that the Clintons' were innocent of criminal wrongdoing when he concluded that "This office has determined that the evidence was insufficient to prove to a jury beyond a reasonable doubt that either President or Mrs. Clinton knowingly participated in any criminal conduct … or knew of such conduct." Prosecutors had previously subpoenaed Hillary's billing records from Madison. However, Hillary continued to lie as she reported that she couldn't find them. Two years later, the records turned up in the White House family residence under circumstances that Hillary has never been able to fully explain. Why she did not go to jail is a mystery. The best case scenario was that the First Couple were lying under oath and obstructing justice, just like Hillary has done with regard to the Chris Stevens murder.
The Whitewater Body Count
John Wilson was found dead from an apparent hanging suicide on May 18, 1993. He was a former Washington DC council member and claimed to have information on Whitewater at the time of his death. Jon Parnell Walker was an investigator for the RTC who was looking into the linkage between the Whitewater and Madison Savings & Loan bankruptcy. Walker "fell" from the top of the Lincoln Towers Building. Stanley Huggins was a principal in a Memphis law firm which headed a 1987 investigation into the loan practices of Madison Guaranty Savings & Loan. Stanley died in Delaware in July 1994 and the highly questionable reported cause of death was viral pneumonia.