Flooding Damage From Jonas Will Cost Billions And Is Being Described As 'Worse Than Hurricane Sandy'
by Michael Snyder, End of the American Dream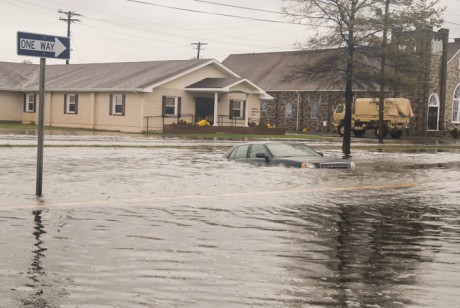 The economic damage done by winter storm Jonas looks like it is going to be much higher than many had originally anticipated. As you will see below, Moody's Analytics is projecting that up to 3 billion dollars of damage has been done, and USA Today is reporting that the flooding along the New Jersey and Delaware coasts was "worse than Hurricane Sandy in 2012″. So all of those that are mocking Jonas as "just a snowstorm" don't really understand what they are talking about. Large numbers of homes, businesses and vehicles were destroyed – especially right along the coast. This was a major disaster, and it is going to take months of work for many of the affected areas to fully recover. The snow got most of the attention in the media, but the truth is that the flooding along the coast was probably the biggest threat from this storm. As I noted above, USA Today is reporting that flooding damage caused by Jonas is being "described as worse than Hurricane Sandy in 2012″…
Flooding damage from the weekend storm along the New Jersey and Delaware coasts is already described as worse than Hurricane Sandy in 2012. "The storm surge and pounding waves caused considerable water damage to homes, businesses, beaches and coastal infrastructure," Aon Benfield said in a report it issued Sunday night. "When combining the actual physical damage to residential and commercial properties, plus automobiles and infrastructure, and adding business interruption losses, we're potentially looking at one of the costlier winter storm events in recent memory," Bowen said.
If you don't live along the coast, it can be easy to sit back and mock. But the truth is that this was an immensely powerful storm, and it permanently changed the geography right along the edge of the water…
Beach communities in New Jersey and Delaware were evaluating the aftermath from the massive winter storm as high tides washed out dunes and brought icy water into the streets. Delaware's sand-enriched beaches from Lewes to Fenwick Island took a whipping as dunes were flattened and wiped away. The ones that remained looked like a giant front-end loader came through and scooped off the face, leaving a jagged series of cliffs. Sand fencing lay crumpled like the tracks from a derelict roller coaster. And in Rehoboth, the boardwalk buckled in places from the force of waves pounding the boards from the bottom up.
Perhaps those that don't think that this storm was a "big deal" would like to foot the bill for the damage. After all, it is only going to be about $3,000,000,000. The following comes from CNN…
The storm that hit the East Coast over the weekend likely cost businesses and residents about $2.5 billion to $3 billion. That estimate comes from Moody's Analytics, which estimates most of the cost of the storm is from businesses that lost sales and employees that lost wages when they could not get to work. Those losses were partly offset by people who earned extra wages due to the storm, such as workers who got overtime for plowing roads and parking lots.
And guess what? As tens of millions of Americans attempt to recover from this storm, another significant winter storm could be rolling in just a few days from now…
Our backs hurt from shoveling. Mountains of snow? They're everywhere. And now we learn ANOTHER storm could roll up the East Coast toward the end of the week. "We could see some snow, a wintry mix or rain in portions of the Mid-Atlantic and Northeast," says Weather Channel meteorologist Quincy Vagell. Oh, the humanity.
Jonas was a truly historic winter storm, and it is very, very unusual to have such severe flooding along the east coast this time of the year. And of course Jonas represented a continuation of a very strange series of flooding disasters that we have seen in the United States since the end of the Shemitah year. The following is a list of these disasters that I shared yesterday… -Around the turn of the year the middle part of the country experienced absolutely horrific flooding. The only thing people can really compare it to is the great flood of 1993, and Missouri Governor Jay Nixon says that some communities saw floodwaters get to "places they've never been before". Normally if the middle of the country is going to see flooding like this, it is going to happen when the snow begins to thaw in the spring. For something like this to happen in December is absolutely unprecedented. -Prior to that, a conveyor belt of storms that barreled into coastal areas of Oregon and Washington caused horrible flooding in many areas. In fact, in early December we witnessed the wettest day in the history of Portland, Oregon. The resulting landslides and floods made headlines all over the nation. -Before that, the remnants of Hurricane Patricia caused nightmarish flooding in many parts of Texas. The flooding was so bad that at one point an entire train was knocked off the tracks. -Out on the west coast, flash flooding in southern California sent rivers of mud streaming across highways in southern California. The lifeless body of one man that had his vehicle completely buried in mud was recovered several days later because that is how long it took emergency workers to get to him. -To kick things off, moisture from Hurricane Joaquin caused horrible flooding all up and down the east coast back in early October. The governor of South Carolina said that it was the worst rain that some parts of her state had seen in 1,000 years. A lot of people out there seem to think that we are just having a really bizarre string of bad luck, while others are not so sure. But everyone should be able to agree that we have never had six months in all of U.S. history when we have been hit with a series of major flooding events like this. So why is this happening? Please feel free to share what you think by posting a comment below…