The Coming Hell Storm In Amerika
by Dave Hodges, The Common Sense Show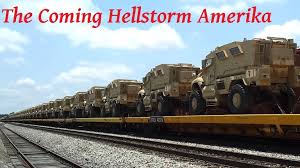 "It is not the size of the dog in the fight, but the size of the fight in the dog" This axiom is soon going to be put to the test in the United States. In any upcoming civil conflict, the American people will be outnumbered by foreign troops and Artificially Intelligent Robots and other high tech devices designed to destroy any rebellion. The Russians could be coming down our chimneys this year. With the Russians and the Chinese gaining a foothold in the Middle East, the isolation of our allies by Putin's superior strategies, and  the soon-t0-be-collapsing economy. The Ammon Bundy situation, if handled poorly by the feds, could result in violence so widespread that it makes Ferguson look like a walk in the proverbial part. Fifteen percent of the farmers will be leaving the business this year and this will leave America with a significant food shortage in a country where a quarter of the people are routinely hungry. Navy Seals are training for martial law and they have been told to view the public as their enemy. The Baltic Dry Index is going down faster than a submarine with screen doors. America will soon become Amerika. Everything you have known or have owned will soon change and/or be ripped from your grasp. The world is being turned upside down as we comfortably watch from our sofas. Meanwhile, the NFL playoffs are on this Sunday. Gerald Celente likes to say that when people lose everything, they lose it. We are about to witness the true meaning of these words.
This Administration Has Been Preparing for Civil Unrest for Years
Do you remember when DHS accumulated 2.2 billion rounds of ammunition as well as 27oo armored personnel carriers? Do you remember all the pictures, videos and related documents which showed Russians training at places like Fort Carson, or were training inside of DHS vehicles, or in the Smoky Mountains outside of Gatlinburg, TN? Do you remember the articles I have written about how Obama has compromised the defenses of Alaska,
thus, making them vulnerable to being overrun by a Russian invasion. Do you remember how I detailed, in several articles how the Russians had a significant military presence at the North Pole and Obama has done nothing to negate any of this. I am certain that many of you recall how I predicted that Germany will one day leave NATO and turn to Germany. We are witnessing this in real time with each trade agreement Germany signs with Russia. What does it all mean? It means that America is about to get clobbered, first at home with serious civil unrest which will likely grow into revolutionary status. And later, China and Russia have been given all that they need by this administration to destroy America in a single day. If you wonder why America is not mentioned in the final days in Revelations, you may be witnessing the reasons why.