School Threats & Lockdowns Across America – What Is Really Going On?
by Stefan Stanford, All News Pipeline Back on September 15th, ANP published a story called "Strange September 18th Warning Letter Goes Out To Parents From School Near Philadelphia" in which we asked 'Do They Know Something We Don't Know?' after a very concerned parent had a very bad feeling about the letter she had received from her children's school.
In the few days since, we have been witnessing all across the country a number of school lockdowns due to very mysterious 'threats' that have come in. On Thursday, at least 11 or more schools were locked down in the San Diego, California area after bomb threats were allegedly phoned in while already today, we have learned about schools in Kentucky being shuttered after threats were apparently levied or an active shooter spotted as shared in the 2nd video below. (Update: Lockdown lifted – apparently a 'hoax' after male caller made a 10-second phone call indicating a mass shooting).

We also learned yesterday that two schools in Greenville, North Carolina were placed on 'modified lockdown' yesterday after 'a man with a gun' was spotted nearby – the 2nd time that this has happened in Greenville already in this just begun school year.
ANP isn't the only one getting a very bad feeling about all of this as you can hear in the videos below including the 1st video from Professor Doom2 who asks if there is some kind of a pattern going on here. Last year, threatening letters were sent to schools in Rhode Island warning of 'ISIS-style' beheadings of school children there – are we now witnessing a new terror campaign by ISIS in America?
Back in June, Western Journalism reported on ISIS threats made at an Oregon school (as seen in screenshot below) while another Western Journalism story shared that ISIS promised 'harsher attacks on American soil' with the group saying 'the next six months will be interesting'. That story was written on May 15, 2015.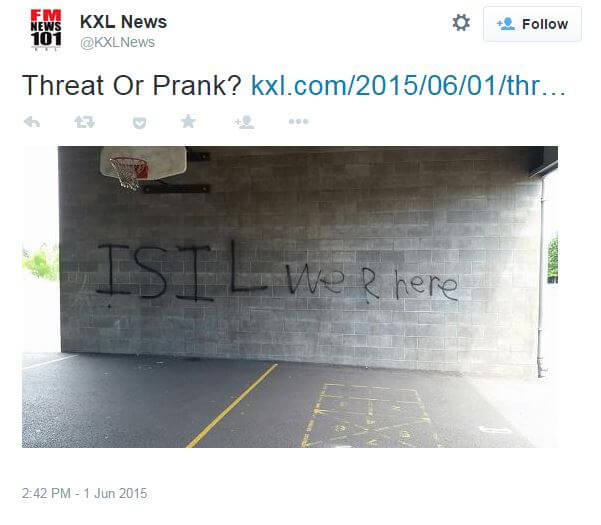 We cannot help but feel that all of this that is going on right now is somehow tied to the Philadelphia area letter we previously reported on and some kind of a bigger 'agenda', whether that agenda is ISIS terrorists spreading fear or some kind of 'false flag' agenda unfolding (think Sandy Hook on a country-wide scale.)
As parents and grandparents of school age children, we are absolutely abhored that 'terrorists' or 'false flag terrorists' would once again put our children in potential danger. All of this goes to prove the 'pure evil' mindset of those who would do such things in America whether these threats are being made by ISIS, those with an agenda or just some foolish kids playing very dangerous games.
While ANP doesn't have the answer to what we are now watching, we are clearly living in a time when all eyes and ears need to be open, video cameras/telephones recording and Americans prepared to 'take down' our enemies if necessary.
Is it just a coincidence that all of this is happening now with the San Diego school district having recently acquired an MRAP from the Department of Defense asks one person at GLP. What is the answer to all of these recent threats of violence? Warwick Rhode Island police chief Stephen M. McCartney shared his words of wisdom on the ISIS-style threats to Rhode Island school children.:
The Warwick Police Chief Stephen M. McCartney cautioned parents not to panic and assured them that police and FBI were on the case.
"While the words are very chilling," McCartney said. "I certainly would want to emphasize that the safest place right now is in school. I've got a police officer in every school and so the other [sic] jurisdictions."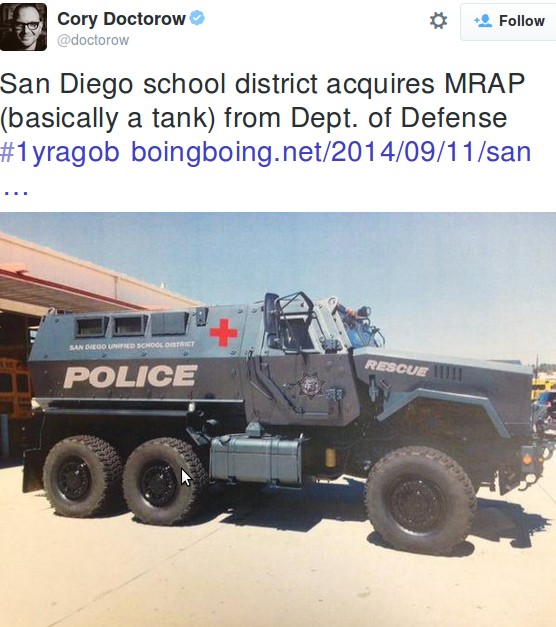 Is a fully-armed law enforcement officer in every school across America the answer to these cowardly and horrifying threats? Will this only get worse as the war upon Christians in America intensifies? All of this breaks our hearts and is crushing to us. Doesn't America deserve much better than this or is all of this just part of the globalists tyrannical 'end game'?