GATA's Chris Powell Speaks on Shameless Midnight Manipulations, Shadowy Forces, & Media Complicity
by Mike Gleason, Money Metals Exchange
Welcome to this week's Market Wrap Podcast, I'm Mike Gleason.
Coming up we'll hear from Chris Powell of the Gold Anti-Trust Action Committee, better known as GATA. Chris has plenty of things to say on just how blatant the manipulation in the gold market has gotten and what the result of all of is likely to be. Don't miss our exclusive interview with Chris Powell, coming up after this week's market update.
Well, what a week for the metals markets. Unfortunately for the bulls, this week's price action was notably to the downside, with spot gold breaking to five-year lows. But in the retail market, gold is having one of its best months on record. More on that in a moment.
First, let's take a closer look at the market technicals for precious metals. Gold lost nearly $40 on Monday as selling from China drove spot prices below $1,100 an ounce. The yellow metal recovered somewhat from the worst levels on Monday's selling spree, but has not been able to hold above $1,100. Gold finished Thursday at $1,090 an ounce and is currently even lower at $1,083, down 4.6% on the week.
So now the question on nearly everyone's mind is: will gold test the $1,000 level or even dip lower to register a 50% decline from its all-time 2011 high of just over $1,900? 50% corrections occur every few years in most commodities. We've seen 50% or greater pullbacks in crude oil, copper, platinum, palladium, and silver since 2008. But not yet in gold. Of course, gold by nature is less volatile than other precious metals and commodities, so 50% corrections are rarer for the yellow metal. When they do come, they are quite significant.
There's no rule that says gold has to fall 50% before bottoming, but it's a level many traders are watching. That level is $961 on the charts to be exact. If gold prices do get that low, buy orders will likely start coming in.
Of course, silver is already down well over 50% from its all-time high. In fact, it's down 70%. Since silver is normally more volatile than gold, the white metal usually falls harder during gold pullbacks. But that hasn't been the case this week. Silver prices as of this Friday morning recording are at $14.46 an ounce, for a 3.1% weekly decline, and, for now, continue to hold just above its spike low from last November. But stay tuned on that.
Silver was also joined by palladium this week in outperforming gold. Palladium was on track for a slight weekly gain through Thursday's close, with the automotive metal now trading at $618 an ounce – now essentially flat for the week after giving back a few dollars so far today. Despite holding its own this week palladium prices are still down big for the month, as are silver prices. But if these two metals can continue to outperform gold that would be a positive sign for the precious metals complex… something that would be a welcome sight to many battered and beleaguered precious metals bulls.
Right now though, the momentum trade remains firmly in the grips of the bears. As I noted last week, gold and silver futures traders have piled in on the short side in an extremely lopsided way. Sentiment among those involved in the paper gold trade is as negative as it's been in years. Assets in exchange-traded instruments tied to gold prices fell to their lowest levels since 2009. And gold futures this week registered their worst string of declines since 1996.
The paper market is telling one story. But the actual physical bullion market is telling quite another. The U.S. Mint has sold over 100,000 ounces of American Eagle gold coins so far in July. That's the highest monthly demand volume registered since April 2013. And that's just as of this week. There's still another week left to go before the final sales tally for Gold Eagles comes in for the month of July. It could be one for the record books with 109,000 1-ounce Gold Eagles sold — with bargain hunters purchasing 6% of the U.S. Mint's production from Money Metals Exchange.
As for Silver Eagles, the U.S. Mint has given up on trying to keep up with demand. After brisk sales during the first week of July, Mint officials suspended deliveries of Silver Eagles to dealers. Sales of the popular coins are set to resume next week. But we expect the Mint will be unable to get its act together and keep up with demand.
Fortunately, there are plenty of other ways to take advantage of these low, low prices in silver and gold. You can save a little on premiums by avoiding government-issued coins and opting for lower priced privately minted rounds or bars. We offer rounds and bars in a variety of sizes, with some sporting designs exclusive to Money Metals Exchange.
These are truly extraordinary times in the precious metals markets. Rarely have metals markets been so bifurcated between the paper and the physical trade.
They are challenging times, to be sure. When trading ranges give out, it's tempting to want to give up. But years from now, will it matter to you whether gold bottomed at $1,060, or $960, or some other number? Probably not.
What will matter is whether you persevered through it all and whether you took advantage of the extraordinary paper selling to add more ounces to your physical stash.
Well now, for more on the tumultuous week that was in the metals markets, including the latest on what is becoming an obnoxious and blatant manipulation scheme, let's get right to this week's exclusive interview.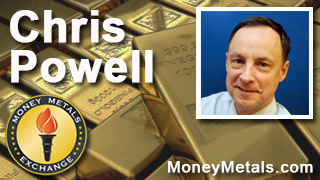 Mike Gleason: It is my privilege now to welcome in Chris Powell, Secretary Treasurer at the Gold Anti-Trust Action Committee, also known as GATA. Chris is a long-time journalist and a hard-money advocate, and through his tireless efforts at GATA he is working to expose the manipulation of the gold and silver markets. Through GATA's works over the years, some important revelations have come to light, which should concern everyone. It's good to have you back with us Chris thanks for taking the time to talk with us today.