Jade Helm Offical Reveals True Purposes of JH-15: This Is a Must Read!
by Dave Hodges, The Common Sense Show
Finally, we are getting some much needed honesty with regard to the true nature of Jade Helm. The information is not overtly forthcoming, but in this clumsily made presentation to local Texas officials, one can pretty much ascertain the true nature of the drill, that is, if one can get around the obvious lies being told to the public by this Jade Helm official.
The Jade Helm official, Tom Meade, a Senior Non-commissioned officer from Army Special Forces (Retired) is now working as a private military contractor and he recently briefed local officials in Big Spring, Texas as to the purposes and the scope of the Jade Helm exercise.
Why Do Military Contractors Know More About the Drill Thank Senior Command Leaders in the Jade Helm Exercise?
Two of my military sources were agitated beyond words when they watched this briefing. To quote one of my sources, he stated "This goddamn retired Non-com knows more than the command officers running Jade Helm about what they are going to be doing. And now this SOB military contractor, who'd sell their own mother down the river, are running this operation instead of the General, Colonels and senior Non-Coms. Only in the Obama administration could this happen".
Collectively, we watched this 15 minute tape and my two sources used profanity more times than in the years that I have known them. I have never seen them this angry.
The Truth Will Out
Below is a transcript of key information revealed by private military contractor, Tom Meade. Please note that Meade repeatedly admits throughout the tape that Jade Helm is NOT training for Iraq and Afghanistan despite the repeated lies told by National Public Radio, KHOU TV in Houston, the Washington Post and Fox and Friends. The tape has been out for a few weeks, however, a word by word analysis has not been conducted.
Key Statements
1:30  We are asking Big Spring city council for a letter of invitation which would invite "forces" to train within your city limits in areas that have low population density.
Analysis: As the readers will soon see, this is about military personnel who are in hiding in rural areas and trying to live off of the land.
1:38  "We are not training for Afghanistan and Iraq…This is about unconventional warfare".
Analysis: This clearly indicates that the anticipated conflict is likely to be Guerrilla warfare.
2:21  "We won't come on someone's property without a land-use agreement".
Analysis: As the people in Pinon Canyon, Colorado if Ft. Carson asks if they can come on to your property and wreck your land. This is about training personnel that total warfare is about not worrying about private property rights. Private property owners in Texas better watch their properties.
2:50  "We do a full risk assessment and full medical plan (prior to coming on private property) and we have already linked into the hospital…we also have medical personnel that will be on site to assist if anything should happen.
Analysis: It is clear that in this drill, citizens are at risk for injury and death. What could the military be doing that is so dangerous, in a drill, that they need to have medical personnel on hand and on alert? If the people in Texas are not yet afraid of what is coming, they are either totally ignorant, or are abject fools.
3:01 "What is Jade Helm? Jade Helm is an 8 week exercise (LIE)… We also have our interagency partners participating such as the FBI, the DEA…."
Analysis: Why the DEA? The DEA tracks the Mexican drug cartels. Judicial Watch has linked the drug cartels to ISIS in base camps just on the other side of the border. Please note that a few weeks ago, a Texas Ranger told me that the Walmarts were being converted into supply centers for the military. The military? "The military that we will use to fight against ISIS incursions into Texas", he stated.
3:50  "The operation is going to be in 7 states (Lie). Texas is going to be the main bulk of the activity".
Analysis: We have photographic, video and live eyewitness evidence that demonstrate that Jade Helm is in every state and is already underway.
4:44  "The Navy Seals will be conducting will be conducting operations over in Mississippi and Louisiana"… The Air Force Special Operations Command will be flying specialty aircraft for us, uh… for infiltration and resupply for the operators on the ground… The Marine Special Operators will be working down in the San Antonio area…The 82nd Airborne Division will jump into Camp Bullis and take down targets within the camp".
Analysis: The Jade Helm lie that the drill is in only 7 states (i.e. Texas, Arizona, Utah, Nevada, Colorado (formerly), California, and New Mexico is fully exposed here with the admission that the Navy Seals will be conducting operations within Mississippi and Louisiana. These two states are not on the Jade Helm list of seven.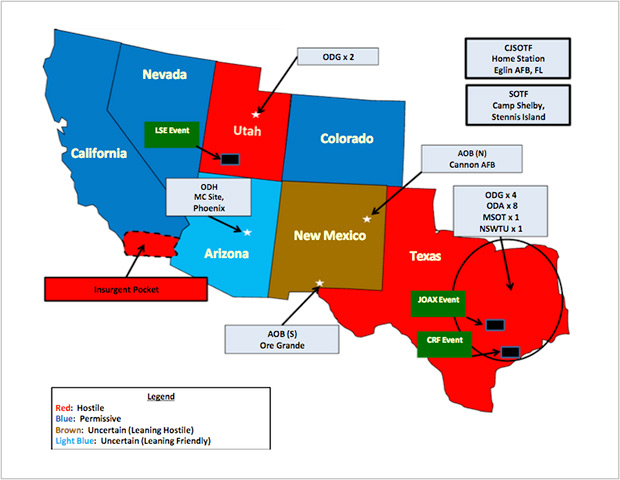 The admission that Jade Helm will use the Air Force Special Operations to assist in "infiltration" is very telling. To Special Forces, infiltration is accomplished with the goal of (1) Destroying command and control as an action in anticipation of invasion; and, (2) Kidnapping and/or assassinating high value targets. This speaks to the political dissident extractions that I have been writing about. It also speaks to Red List executions by death squads who also use infiltration techniques.