Prominent Lt. General Tells Dave Hodges of the Coming Civil War – Bonus Coverage
by Dave Hodges, The Common Sense Show Yesterday, I was fortunate enough to speak to the Chino Valley, AZ. chapter of the Oathkeepers. I came away convinced that I shared a room, for 90 minutes, with people who grasp the importance of the times that we are living in and these former law enforcement and military personnel are dedicated to convincing today's LEO's and military to not take up arms against the American people when ordered to do so. I am further convinced that we are beginning to enter a period of time where some in the military are questioning their military mission regarding Jade Helm which means that after months of keeping our collective journalistic eye on the ball, the work is beginning to pay off.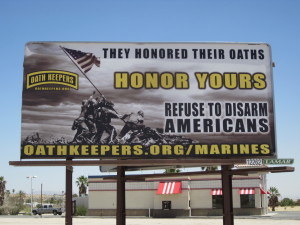 I have been telling many colleagues, in the Independent Media, that I fully expected to start hearing from people in more of an official capacity when it comes to Jade Helm, because Jade Helm is anti-American, illegal in its execution and absolutely evil in its intent. I know that there will be a time when most American soldiers will collectively say "enough is enough". I have heard from many members of the Michigan Reservists and National Guard that are questioning their mission in relation to Jade Helm. I get the occasional email from the family members of military personnel from around the country who are concerned about the direction that our military is being taken. My military sources have confirmed that key members of the Jade Helm leadership are growing concerned because they are not entirely certain of their mission goals because their participation is so heavily compartmentalized. But until yesterday, I have not heard from a person in a command position, or a recent command position, who is expressing concern over Jade Helm and what will follow these drills. This is the story of one leader and his up close and personal view of what lies ahead and this message should scare the life out of every American.
The Lt. General Speaks Out
On the morning of May 23rd, I was sent an email communication from a man claiming to be a recently retired Lt. General who was forced to retire in an Obama purge of military leadership in which the President has fired 270 command military leaders. He provided me with identifying clues so that I could verify his identity which I subsequently did. As a quality control check, I ran the same information by my two primary military sources. Both sources independently told me that they do indeed know both the identity of this individual and his former role and function in the military.
Lessons Learned
Back in November of 2012, when I broke the news about the attempted soft military coup in regard to the Benghazi story, I hesitated to publish my information for 10 days because I did not have outside collaboration for what I was being told. I almost lost my source as a result of my hesitation. As it turned out in this November 3, 2012 article, I was three months ahead of many outlets because the source was so controversial that many backed away from this topic. However, my information about the soft coup connected with the attempted rescue of Ambassador Stevens has proven to be accurate. I will not make the same mistake did with the Ambassador Stevens story. The Lt. General's information is important and time sensitive. With his identity validated and confirmed, this is his message about the present national crisis connected to Jade Helm.
Revelations From the Lt. General
In 2012 this Lt. General  was part of a Pentagon study which studied how many military personnel would side with the government and how many could be counted upon to fire upon American citizens when ordered to do so. The 2012 Pentagon study reached the following conclusions:
Continue Reading>>> TDC Bonus Coverage – This is an interview I conducted with Daisy Luther several months ago when this question first reared it's ugly head. It is appropriate for this article and this time in our history. At the end of the day, we all have our beliefs and are certain to have ideas of what we believe is going to happen. When you have two opposing groups of people that are heavily armed and tensions are running to the extreme, that makes are a volatile situation–anything can, and usually does, happen. One wrong movement, word or rustling of the wind can send the situation into overdrive.