Are You On the Jade Helm Red List and Will You Know When It's Time to Run?
by Dave Hodges, The Common Sense Show
This is a two part series which deals with critical issues associated with planned round-ups of potential resistance leaders and how to recognize when the extractions will happen. This is very valuable information as it will be important to not be where one is expected to be when the extractions commence.
The second part of this series will discuss the technology that will be employed to hunt down key resistance figures along with counter-intelligence techniques designed evade capture.
There are some universal principles that will be applied when key people are hunted down when the NSA/DHS decides that your Threat Matrix Score is too high and you must be extracted from society so that you cannot do any more damage to the emerging power structure that has hijacked our government. .
The Historical Precedent of the Night of the Broken Glass
In pre-holocaust Germany, Jewish businesses were singled out for physical destruction in an event called Kristallnacht (i.e. night of the broken glass). Hundreds of Jewish businesses were attacked on the same night.
When the Holocaust began, in earnest, the Gestapo would target selected neighborhoods, for extraction, and make their move, in the same general area, on the same night. If the area was large and exceeded the capacity to extract everyone in a given area, the neighborhoods would be sealed off, with nobody allowed in or out as systematic arrests were carried out. The times may change and the technology may be better, but the same Nazi blueprint would be applied.
Nazi Germany Revisited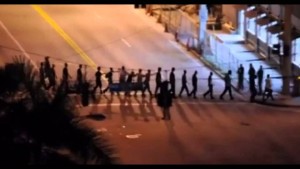 Jade Helm appears to be following the same pattern as their Nazi predecessors. From the Liberty Brothers to my deep insider sources, the same message and the same Nazi scenario is emerging.
When the extractions of political dissidents commences, the event will follow conform to the following pattern. Cell phone service will be blocked so the intended victims cannot warn each other when the event commences. In the ARSOF document, this is referred to as "surgical strikes". The ARSOF dissident extractions will take place on the same night and with modern technology, it will be carried out with extreme efficiency.
There has been a lot written about the local police and participation in Jade Helm drills. However, it is not likely that the police will be going door to door beside ARSOF personnel, please consider the following.
____
Hi Dave,

I am a retired Deputy Sheriff but I still have regular contact with many from our department. They are not training with military forces as of yet, but they will soon be doing so. Some have been told that they will be assisting in the apprehension of key fugitives (aka terrorists). From memos and actual convdersations, the job of the department will primarily be to provide a defensive perimeter that will prevent escape in a "nobody in and nobody out" approach. We know for a fact that other departments have been told similar things in briefings/memos held/conducted by the Department of Homeland Security.

I have been reading your articles for sometime now and I am convinced that LEO's will be used as support personnel as "federal of military authorities arrest enemies of the state". I do not remember seeing that you have written about local law enforcement and their role in what appears to be coming. Please take a look at this as there is an important story on this point. My family, some friends and I greatly appreciate your work. 
____
This is what happened, for the most part, in South Carolina and this is precisely what the Gestapo did as they conducted mass arrests.
The Nazis almost always carried out their extractions at 3AM. Jade Helm announced that all of their drills would be carried at from11pm to 4AM. Jade Helm leadership have also announced that they will be practicing "infiltration techniques". And most know that the job of ARSOF is extract or assassinate high value targets prior to invasion or occupation.