Inside the Military-Police Center That Spies on Baltimore's Rioters
by Adam Weinstein, Phase Zero
On Ambassador Road, just off I-695 around the corner from the FBI, nearly 100 employees sit in a high-tech suite and wait for terrorists to attack Baltimore. They've waited 11 years. But they still have plenty of work to do, like using the intel community's toys to target this week's street protests.
They are the keepers of the Maryland Coordination and Analysis Center, a government "fusion center" set up to share information and coordinate counterterrorist activities between 29 law enforcement agencies—federal, state, and local, including Baltimore city and county cops—in the aftermath of the Sept. 11 attacks. Seeded by a state anti-terror advisory council whose meetings are closed to the public, nourished by Republican and Democratic governors alike, MCAC has expanded its access to spying tools over the past decade and a half. It can pinpoint cellphone users. It can monitor movements of state motorists through their license plates, as it has done with an estimated 85 million drivers.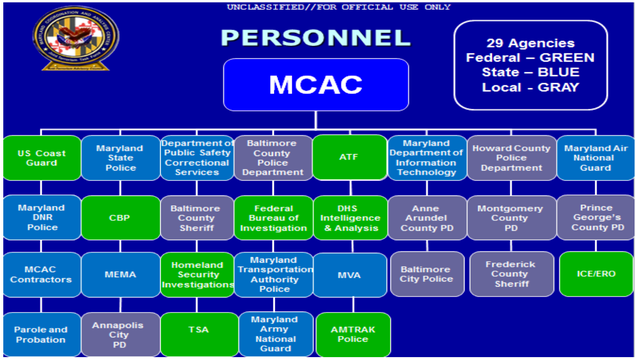 It turns out that Maryland hasn't been under sustained assault from international terrorists, despite the wild fears of the homeland security boosters who seek to justify the center's budget. So rather than accept the possibility that MCAC and other fusion centers were guarding against an overhyped threat, the federal government has expanded the mission to include threats that have always existed: When your job is to find bad guys, it makes it easier to define everyone as a bad guy.
The MCAC has adopted what the Department of Homeland Security calls an "all-crimes approach"—one focused not just on monitoring gangs and other criminal threats, but all manners of civil unrest, from Occupy protesters to the Baltimore residents who have clashed with police on the city streets this week. And it is run by a cop who has been accused of racism in the past.
"Twelve emergency support functions have been activated" in Maryland to address the violence in Baltimore, authorities told WBAL earlier this week, including "the Maryland Coordination and Analysis Center, which provides situational awareness and intelligence." In fact, as protests over Freddie Gray's death in police custody spread to other major cities across the country, MCAC and other fusion centers set up by DHS will be crucial to how local law enforcement agencies confront civil dissent.
From terrorism to tax-stamp fraud
Shortly after 9/11, then-Attorney General John Ashcroft ordered his U.S. Attorneys' offices to set up district "Anti-Terrorism Advisory Councils." The council for Maryland, led by a hard-charging Bush appointee, wasted no time in creating MCAC to coordinate the region's terrorism response. It was given state-of-the-art tools, including "a 15-foot wide split television screen tuned into CNN, Fox News and a local news broadcast," and office space to hold representatives of the FBI, ATF, DHS, Army, and Baltimore police, among others. In fact, one of the center's early directors, Captain Charles Rapp, wore another surprising law enforcement hat, according to a 2007 profile in National Defense Magazine (emphasis added):
While there is no formal definition of what constitutes a fusion center, and no congressional mandate directing states to create them, DHS has disbursed $380 million in grants to help fund them so far, and their numbers are growing.

While the ultimate goal is to correct the well-documented mistakes that led to the 9/11 attacks, the centers are increasingly being used to track crimes not typically associated with terrorism, said Rapp, who also serves as the chief of the Baltimore Police Department.
By 2006, the greater Baltimore area had been identified by feds as a major drug-crimes target, and MCAC used its high-tech tools to pivot to fighting whatever crimes it could jam up under the guise of anti-terror and counter-narcotics:
A terrorist cell may be involved in other non-terror crimes to fund its activities. It's the city cop, for example, who may enter an apartment on an unrelated call, and notice there is nothing inside but computers. MCAC, and other fusion centers, are branching out to keep tabs on major crimes. Coupon fraud, evasion of state tax stamps on alcohol or cigarettes and identity theft, for example, can be used to fund plots. "You can't really determine what type of crime is going to be related to terrorism," Rapp said.