Are The Baltimore Riots Being Manipulated?
by Michael Snyder, End of the American Dream Is it possible that there are people out there that are attempting to inflame the Baltimore riots for their own twisted purposes?  I don't know if you have noticed, but there has seemed to be lots of unprotected police vehicles parked very close to where all of the protests have been happening.  The police had to know that those vehicles would be prime targets if violence erupted.  So where were the police while those vehicles were being smashed and set on fire?  And why did the mayor of Baltimore say that authorities purposely "gave those who wished to destroy space to do that"?  Yes, Freddie Gray really died.  And yes, the police really did brutalize him resulting in his death, and the outpouring of anger that we are witnessing regarding this episode of police brutality is very real.  But as Rahm Emanuel used to say, "you never want a serious crisis to go to waste".  In recent days we have seen a whole host of politicians, "civil rights leaders", and opportunists flock to Baltimore like bears to a honeypot.  We have also seen events unfold in a way that seems almost perfectly staged for television.  Yes, the anger of the rioters in Baltimore is very real, but is that anger being manipulated and used for other purposes?
Early on Monday, there was a very highly organized Internet campaign calling for a "purge" in Baltimore that would begin at precisely 3 PM eastern time…
On Monday, police said an online call was issued for a "purge" at 3 p.m. ET, starting at Mondawmin Mall and ending in the downtown area. The type of threat threat is based on a movie called "The Purge," whose plot involves rampant lawlessness.
It would be extremely interesting to find out precisely where this call for a "purge" originated from.  And if you have seen "The Purge", then you know exactly what was being called for.  It was a clear message that violence was going to happen.  Authorities knew about this well in advance, but the Mondawmin Mall area was not locked down in advance.
Very suspicious.
And the authorities also knew in advance that law enforcement officers were going to be specifically targeted on Monday…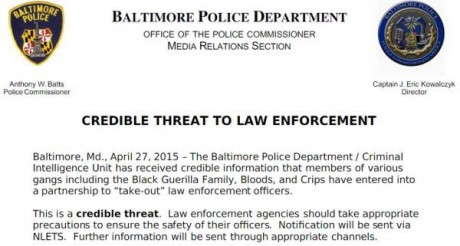 Would you like to know who brought those gangs together?
According to Fox News, it was the Nation of Islam…
Activists from the Nation of Islam claimed responsibility for bringing the gangs together, telling reporters that they brokered a deal between the hated foes.

"I can say with honesty those brothers demonstrated they can be united for a common good," Nation of Islam minister Carlos Muhammad told The Daily Beast. "At the rally, they made the call that they must be united on that day. It should be commended."
Wow.
Perhaps there is more going on behind the scenes in Baltimore than we are being told.
On Saturday night, rioters made it a point to destroy any unoccupied police vehicles that they found nearby.  In the aftermath, Baltimore Mayor Stephanie Rawlings-Blake informed reporters that a decision was consciously made to give "those who wished to destroy space to do that"…
"While we tried to make sure that they were protected from the cars and the other things that were going on. We also gave those who wished to destroy space to do that as well. And we work very hard to keep that balance and to put ourselves in the best position to deescalate, and that's what you saw."
Was the same philosophy employed on Monday when even more police vehicles were vandalized and destroyed?