MEXICO: World's Number One Silver Producer Slips In 2014
by Steve St. Angelo, SRSrocco Report
Mexico is the largest silver producer in the world.  The only two countries that come remotely close to Mexico's number one ranking are Peru and China.  However, these countries trail Mexico by more than 50 million ounces.
According to the INEGI, Mexico produced a record 186 million ounces (Moz) of silver in 2013, but this declined to 184 Moz in 2014.  On the other hand, Peru's silver production increased from 118 Moz in 2013 to 121 Moz in 2014.   If we combine the total of these top two producers, total production only increased slightly from 304 Moz in 2013 to 305.6 Moz in 2014.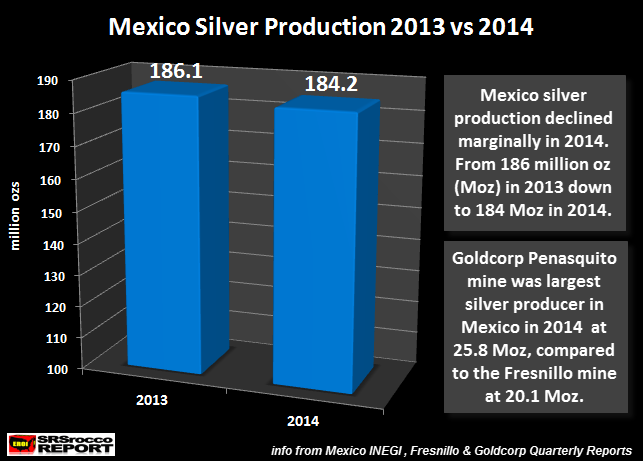 While some regions in Mexico, such as the historic Zacatecas, saw increases in silver production, the Sonora region suffered large declines.
In Mexico's recent INEGI statistics of the mining metallurgical industry, the Zacatecas region saw a 15.5% increase (33 metric tons) of silver production in December, while the Sonora region suffered a 64% decrease (56 metric tons).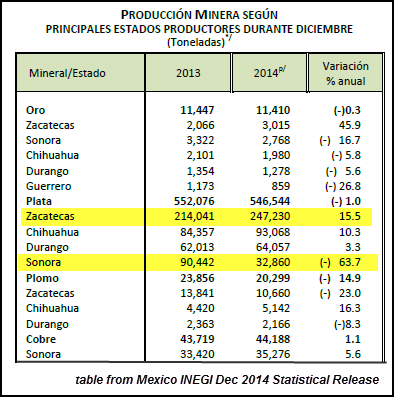 To find the silver production in the table below look at PLATA, which is silver in Spanish.  As you can see, silver production increased in the Zacatecas region, but declined in Sonora.  Two of the largest Mexican silver mines are located in the Zacatecas region.
These two mines are the Fresnillo mine owned by Fresnillo LLC, and the Penasquito mine run by Goldcorp.  The Fresnillo mine used to be one of the largest primary silver mines in the world.  However, ore grades have declined significantly over the past several years, resulting in much lower production at Fresnillo.
NOTE:  The company, Fresnillo LLC has several silver and gold mines.  Their top primary silver mine is Fresnillo and the second is Saucito.
In 2014, Goldcorp's Penasquito gold mine, produced 25.8 Moz of by-product silver, while Fresnillo's production fell to 20.1 Moz.  Thus, Mexico's largest silver producer is now a gold mine which produced a little more than a half million ounces of gold in 2014.
This wasn't the case just a few years ago.  Here is the Fresnillo mine's silver production since 2010:
Fresnillo Mine Silver Production
2010 = 35.9 Moz
2011 = 30.3 Moz
2012 = 26.4 Moz
2013 = 22.8 Moz
2014 – 20.1 Moz