The Day the ATMs Run Out…
by Bill Bonner, Daily Reckoning Pease remember this warning when you go to the ATM to get cash… and there is none! While we were thinking about what was really going on with today's strange new money system, a startling thought occurred to us. Our financial system could take a surprising and catastrophic twist that almost nobody imagines, let alone anticipates. Do you remember when a lethal tsunami hit the beaches of Southeast Asia, killing thousands of people and causing billions of dollars of damage? Well, just before the 80-foot wall of water slammed into the coast an odd thing happened: The water disappeared. The tide went out farther than anyone had ever seen before. Local fishermen headed for high ground immediately. They knew what it meant. But the tourists went out onto the beach looking for shells! The same thing could happen to the money supply: Cash could evaporate suddenly and disastrously – just before we drown in it.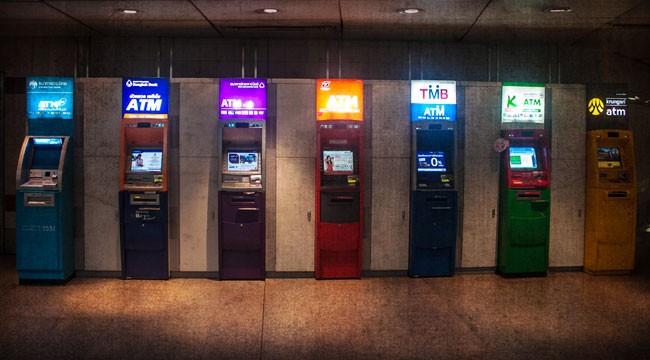 Here's how… and why: If you look at M2 money supply — which measures coins and notes in circulation as well as bank deposits and money market accounts — America's money stock amounted to $11.7 trillion as of last month. But there was just $1.3 trillion of physical currency in circulation — about only half of which is in the US. (Nobody knows for sure.) What we use as money today is mostly credit. It exists as zeros and ones in electronic bank accounts. We never see it. Touch it. Feel it. Count it out. Or lose it behind seat cushions. Banks profit — handsomely — by creating this credit. And as long as banks have sufficient capital, they are happy to create as much credit as we are willing to pay for. After all, it costs the banks almost nothing to create new credit. That's why we have so much of it. A monetary system like this has never before existed. And this one has existed only during a time when credit was undergoing an epic expansion. So our monetary system has never been thoroughly tested. How will it hold up in a deep or prolonged credit contraction? Can it survive an extended bear market in bonds or stocks? What would happen if consumer prices were out of control? Our current money system began in 1971. It survived consumer price inflation of almost 14% a year in 1980. But Paul Volcker was already on the job, raising interest rates to bring inflation under control. And it survived the "credit crunch" of 2008-09. Ben Bernanke dropped the price of credit to almost zero, by slashing short-term interest rates and buying trillions of dollars of government bonds. But the next crisis could be very different… Short-term interest rates are already close to zero in the US (and less than zero in Switzerland, Denmark and Sweden). And according to a recent study by McKinsey, the world's total debt (at least as officially recorded) now stands at $200 trillion – up $57 trillion since 2007. That's 286% of global GDP… and far in excess of what the real economy can support. At some point, a debt correction is inevitable. Debt expansions are always – always – followed by debt contractions. There is no other way. Debt cannot increase forever. And when it happens, ZIRP and QE will not be enough to reverse the process, because they are already running at open throttle. What then? The value of debt drops sharply and fast. Creditors look to their borrowers… traders look at their counterparties… bankers look at each other… Continue Reading>>>
loading...
Sharing is caring!